A 1950s Slim Aarons Print for Jimmy and Tam's
Master Bedroom on The Block 2020
Jimmy and Tam
started their journey on
The Block
with a series of wins, landing them with their chosen house to renovate on the New Street, Brighton block.
The Block house they are renovating was originally built in the 1950s and they have found designing and styling for this era to be to their advantage.
In Week 3 of the show, Jimmy and Tam designed a stunning Master Bedroom with a brick fireplace, palm springs inspired wallpaper and a sun-soaked colour palette of dusty pinks and yellows.
We loved having Tam visit our Brighton store as she looked to include a Slim Aarons print in her beautiful bedroom. FRAMING TO A T are Melbourne's largest stockists of Slim Aarons photographic prints and with each Slim beautifully custom framed, Tam knew exactly where to come to purchase a large-scale vintage photograph to complete her space.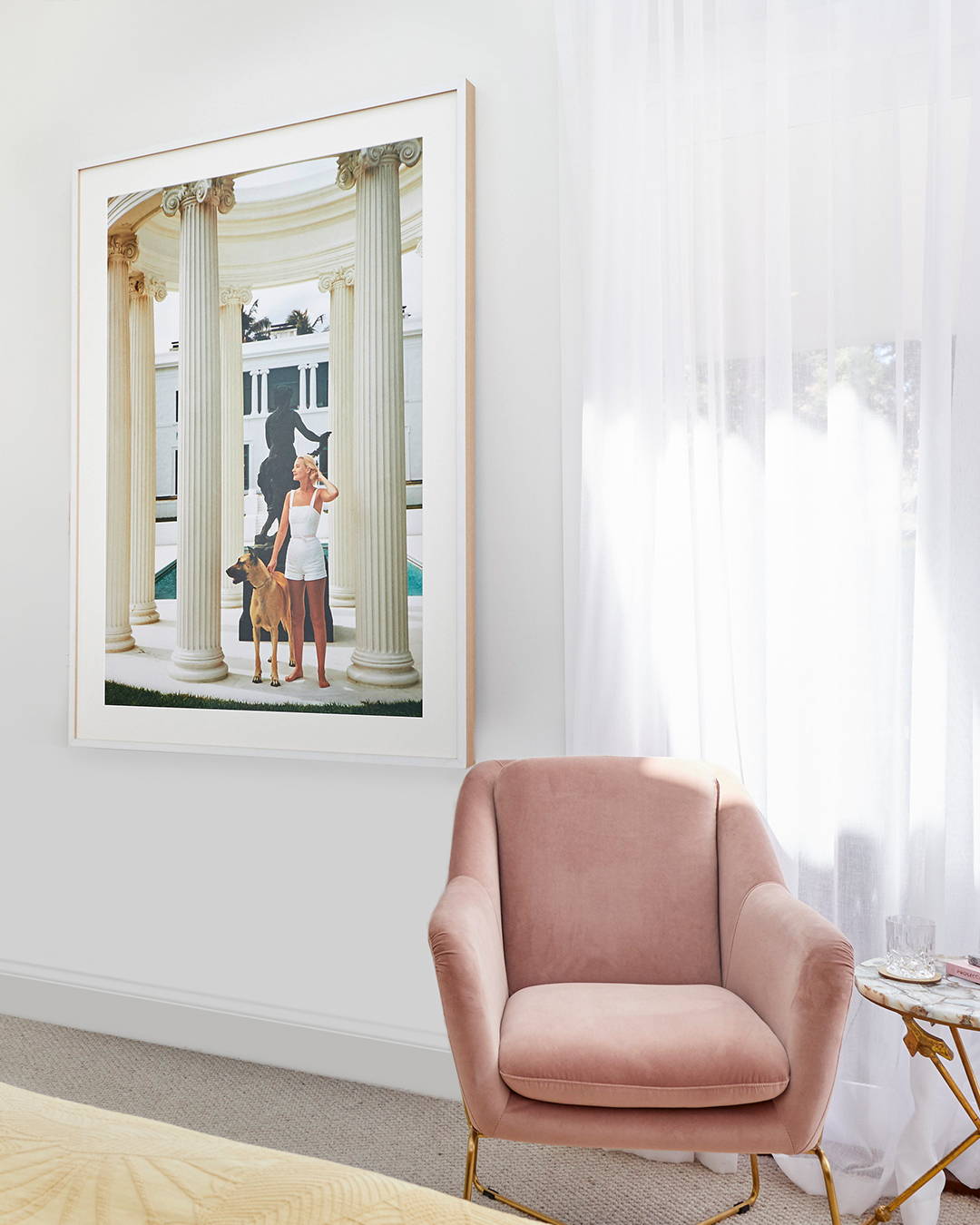 With the complete Slim Aarons archives available to shop with FRAMING TO A T, Tam's choices were endless and she knew no matter which framed Slim Aarons print she chose, the photographic art would look amazing in this beautifully considered room.
When we talked with Tam about the details in her space and what the judges were looking for, the authenticity of styling to the 1950s era was a big part of what the judges were scoring on. This then ruled out any other decade from Slim Aarons' body of work, which spans from the 1950s to the 1980s.
When we showed Tam 'C.Z Guest' by Slim Aarons, circa 1955, she fell in love with this photograph.
American socialite C. Z. Guest is captured with a Great Dane at her in-laws' ocean-front estate, in Palm Beach, Florida. The piece is framed in a white frame with natural oak sides which was perfectly complementing to the finishes in Jimmy and Tam's space.