A TV-Mirror for Harry and Tash's
Bold 1920s Master Bedroom on The Block 2020
This season on The Block, Harry and Tash came in store to FRAMING TO A T to arrange a custom made
TV-Mirror for their Master Bedroom.
The father and daughter duo were looking to bring a statement mirror to their bold interiors and the Mirror TV was the perfect way to not only introduce a mirror, but also keep the TV hidden in the bedroom.
For those who don't know about our TV-Mirrors, they work by displaying the TV imagery when the TV is on, and when the TV is off, the piece is a stunning framed mirror. They're seamless, beautifully designed and constructed, and an innovative design choice!
Harry and Tash knew that the Mirror TV was going to be a beautiful feature and point of difference in their luxe Master Bedroom.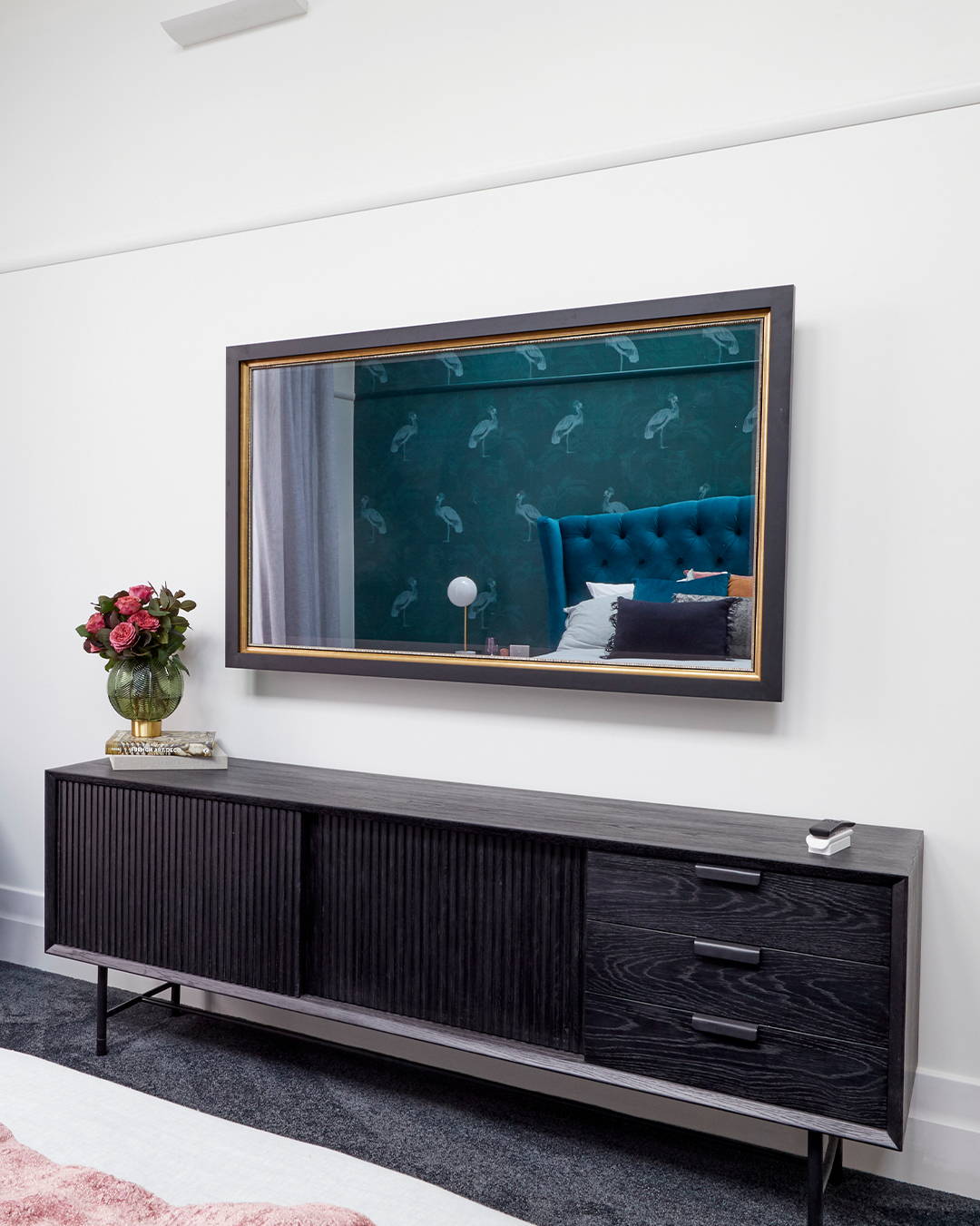 Harry and Tash were renovating a beautiful 1920s build and by Week 3 when designing their Master Bedroom, they were feeling a bit more confident with their styling.
Striking patterned wallpaper behind the bed, velvet upholstery and accents of gold were some of the traditional features in Harry and Tash's Master Bedroom as a nod to the style of the original build.
When Tash came in store to design a custom made TV-Mirror, she knew the TV model and size she wanted, and the next step was to create a custom framing design that complemented their bold Master Bedroom using our extensive range of frames.
Working alongside our Design Consultants, Tash chose a multi-layered frame design for her TV-Mirror.
Using a matte black square frame, introducing a gold inner frame and then a detailed black and gold third frame gave this piece the strength, detail and elegance to work for this bedroom interior.
Our TV-Mirrors are made using sustainably sourced timbers and quality materials, and are constructed by our expert picture-framers. Thankfully, since our TV-Mirrors are made in-house in our Manufacturing HQ in Melbourne, we were able to meet their tight deadline for the reveal.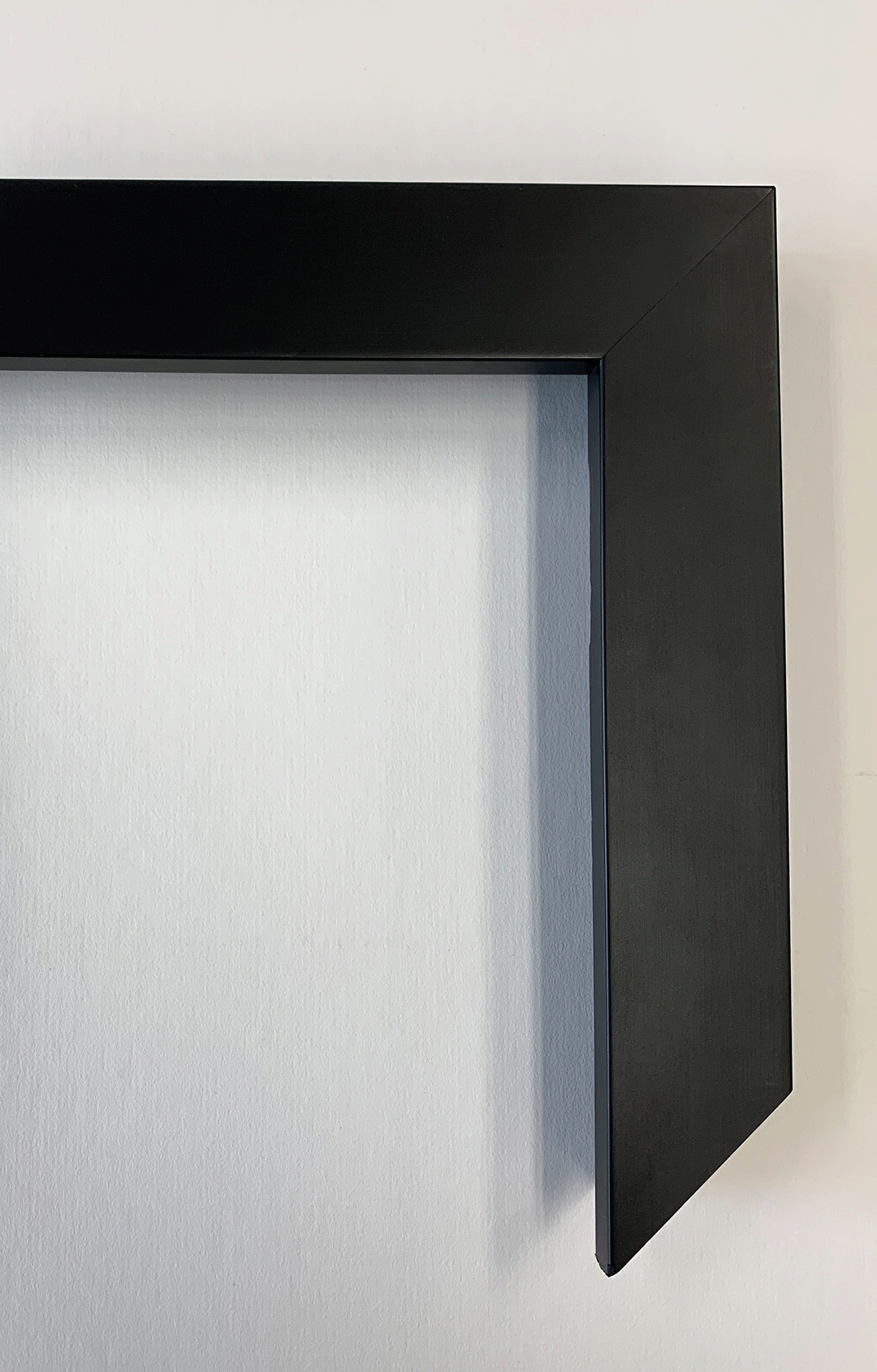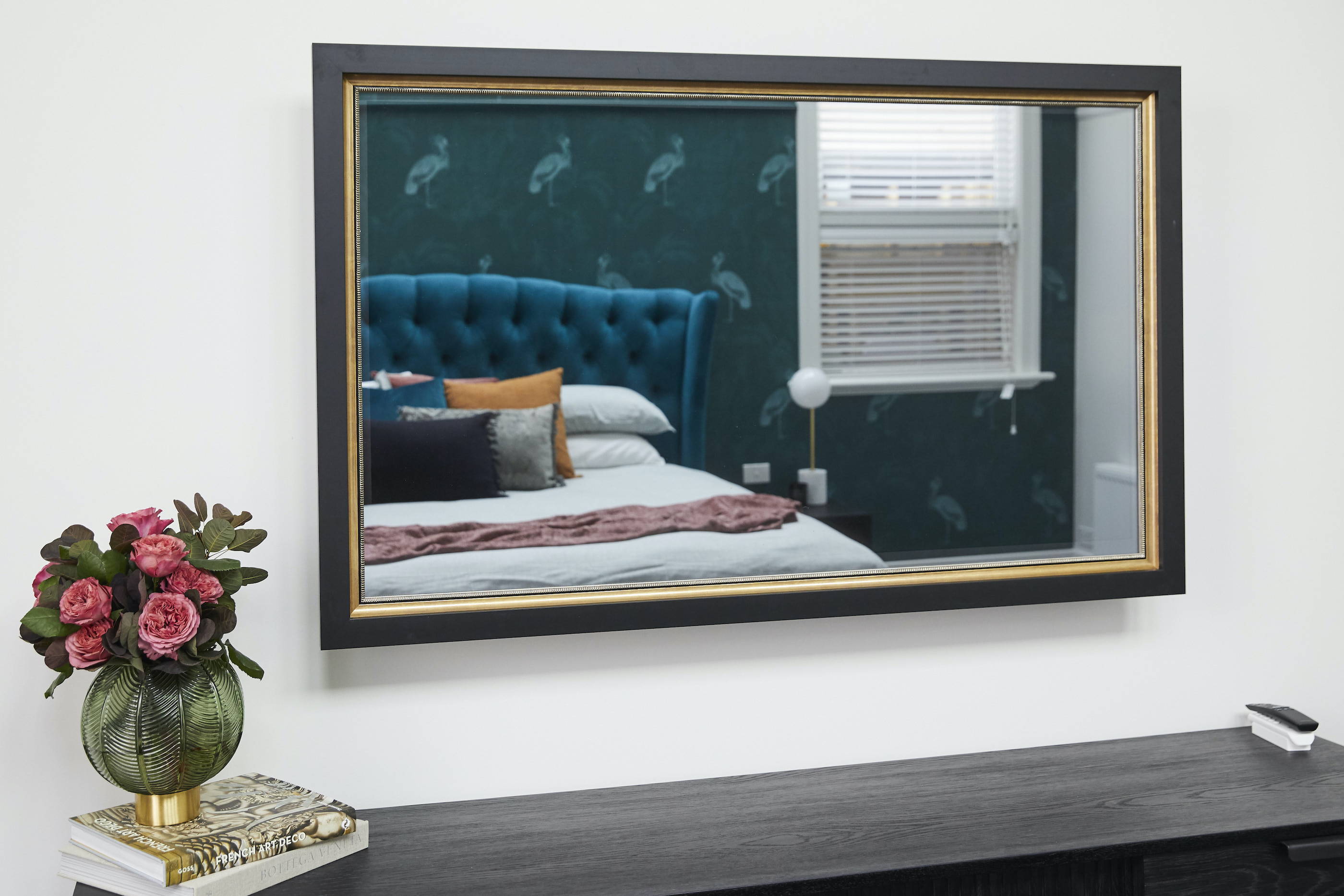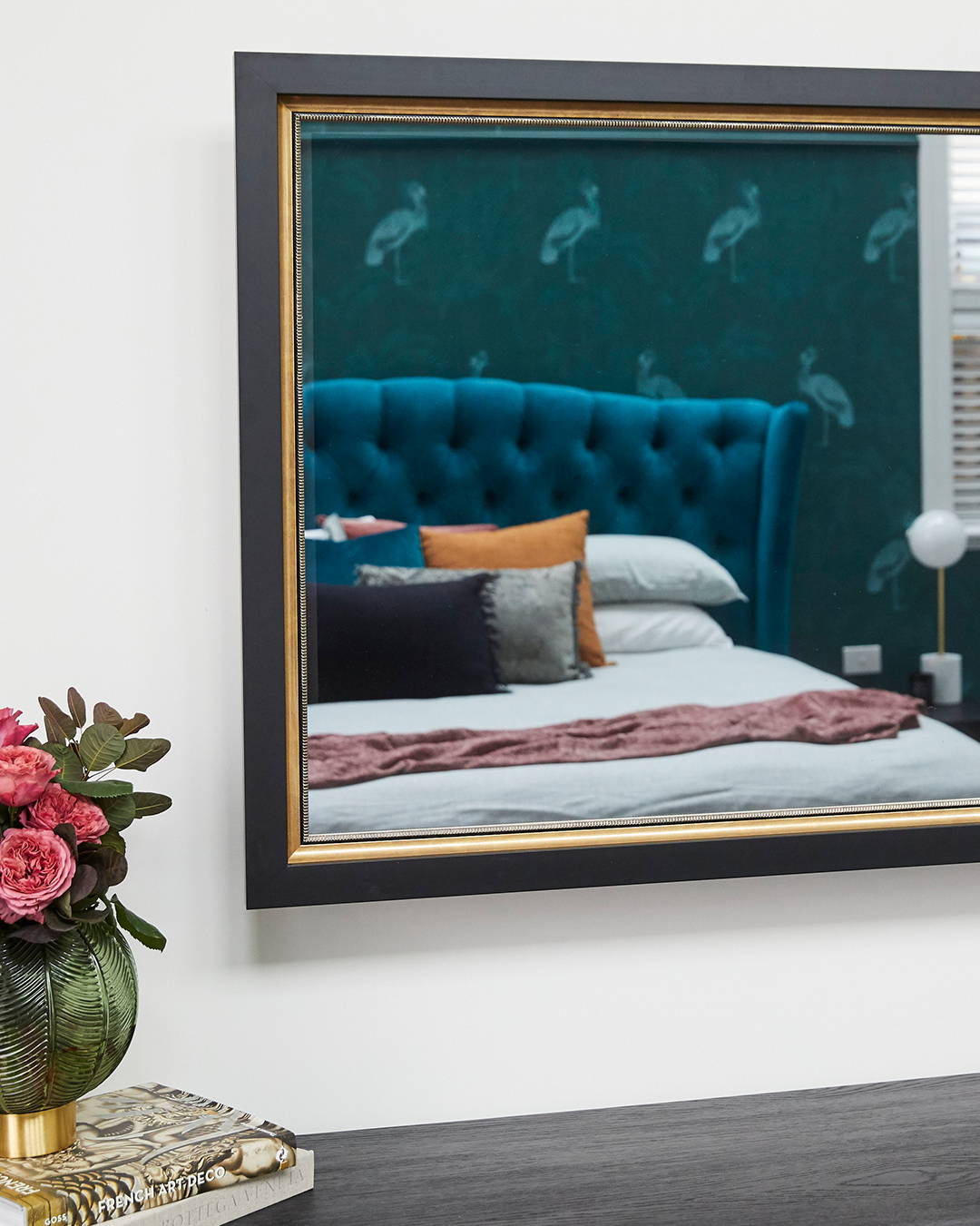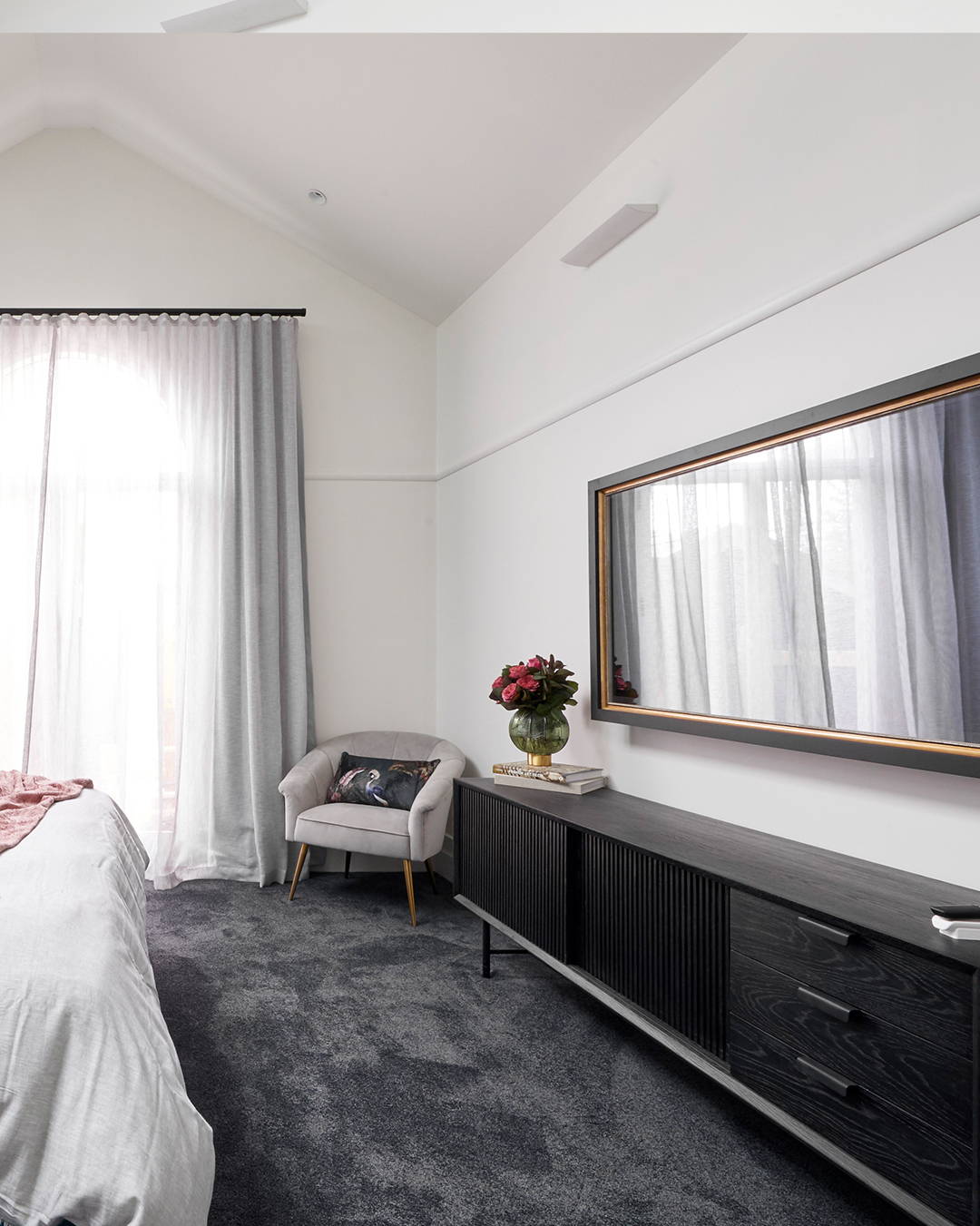 We loved collaborating with Harry and Tash on designing this piece, and we absolutely love how this mirrored television worked out and so did the judges!
Shop Harry and Tash's TV-Mirror, explore more pieces as seen on The Block, or contact us for more information on creating a custom made TV-Mirror for your home or interior space.