CUSTOM MADE TV-MIRROR AS SEEN ON THE BLOCK
In our boutiques, alongside our curation of framed artworks, occasional furniture and home décor pieces, you'll find our latest innovative decorator item; The TV-Mirror.
Our custom-made TV-Mirrors are a beautiful statement mirror that disguises the TV.We were delighted to be involved in The Block 2018, and to design a custom TV-Mirror for contestants Kerrie and Spence.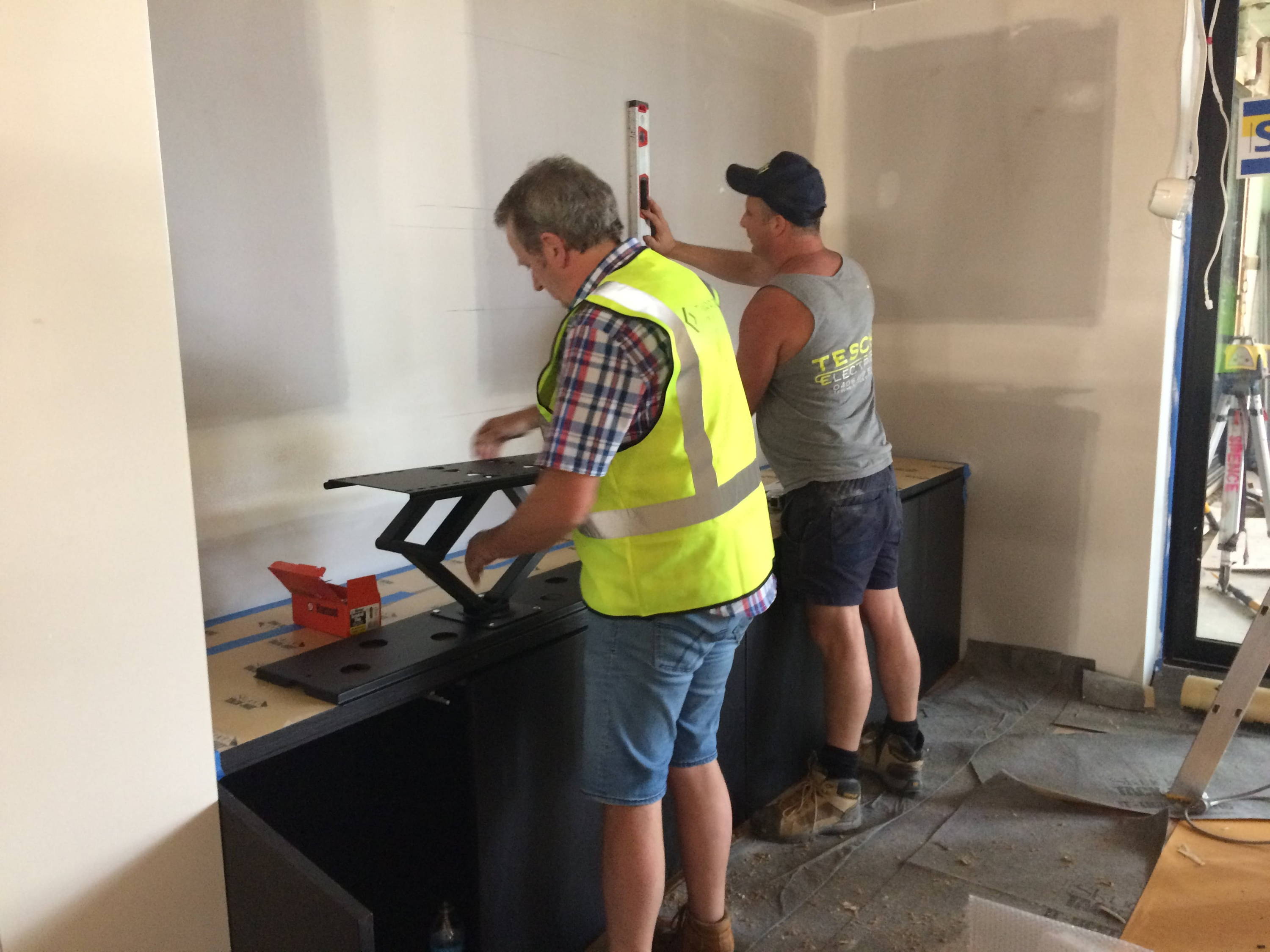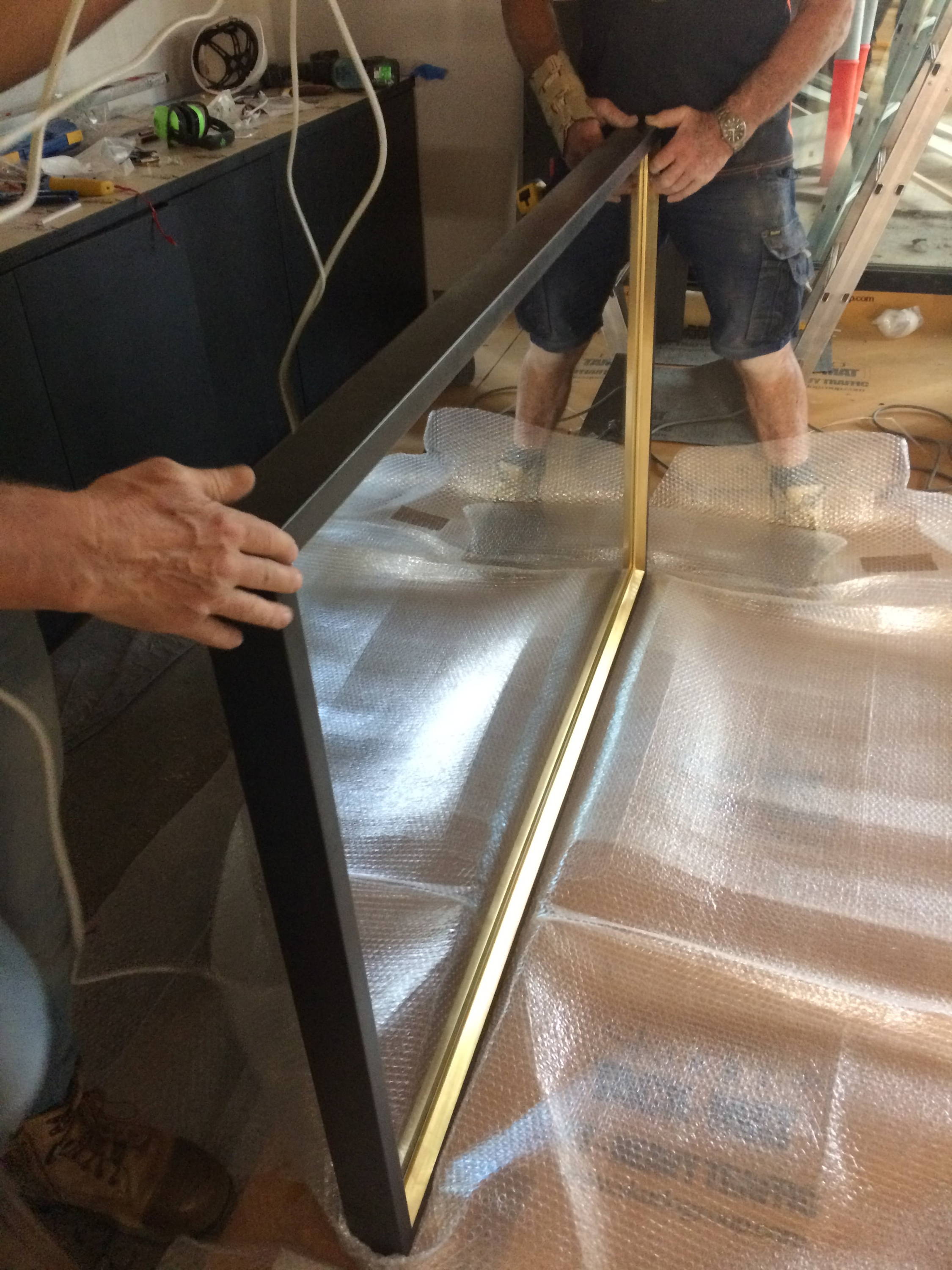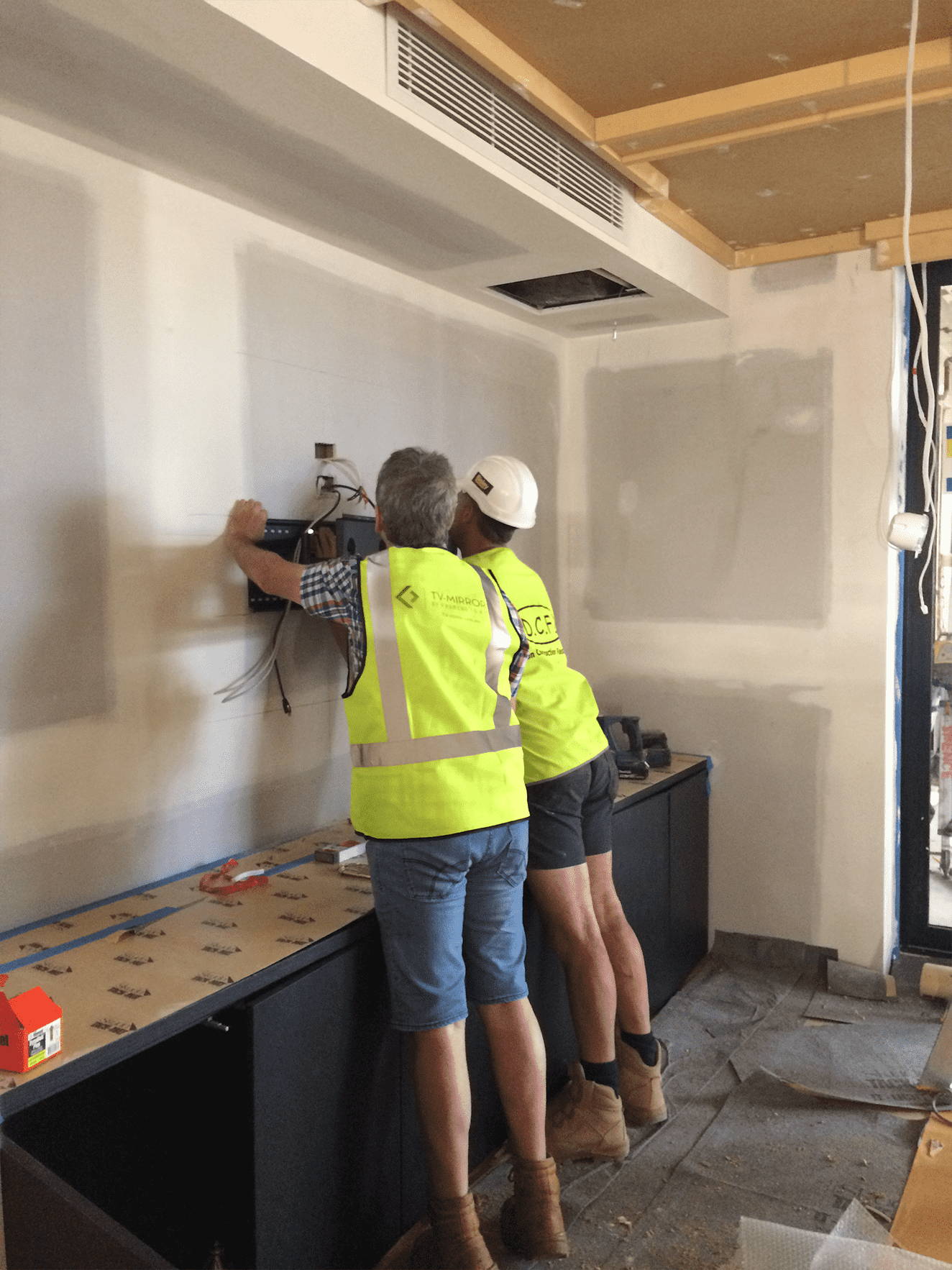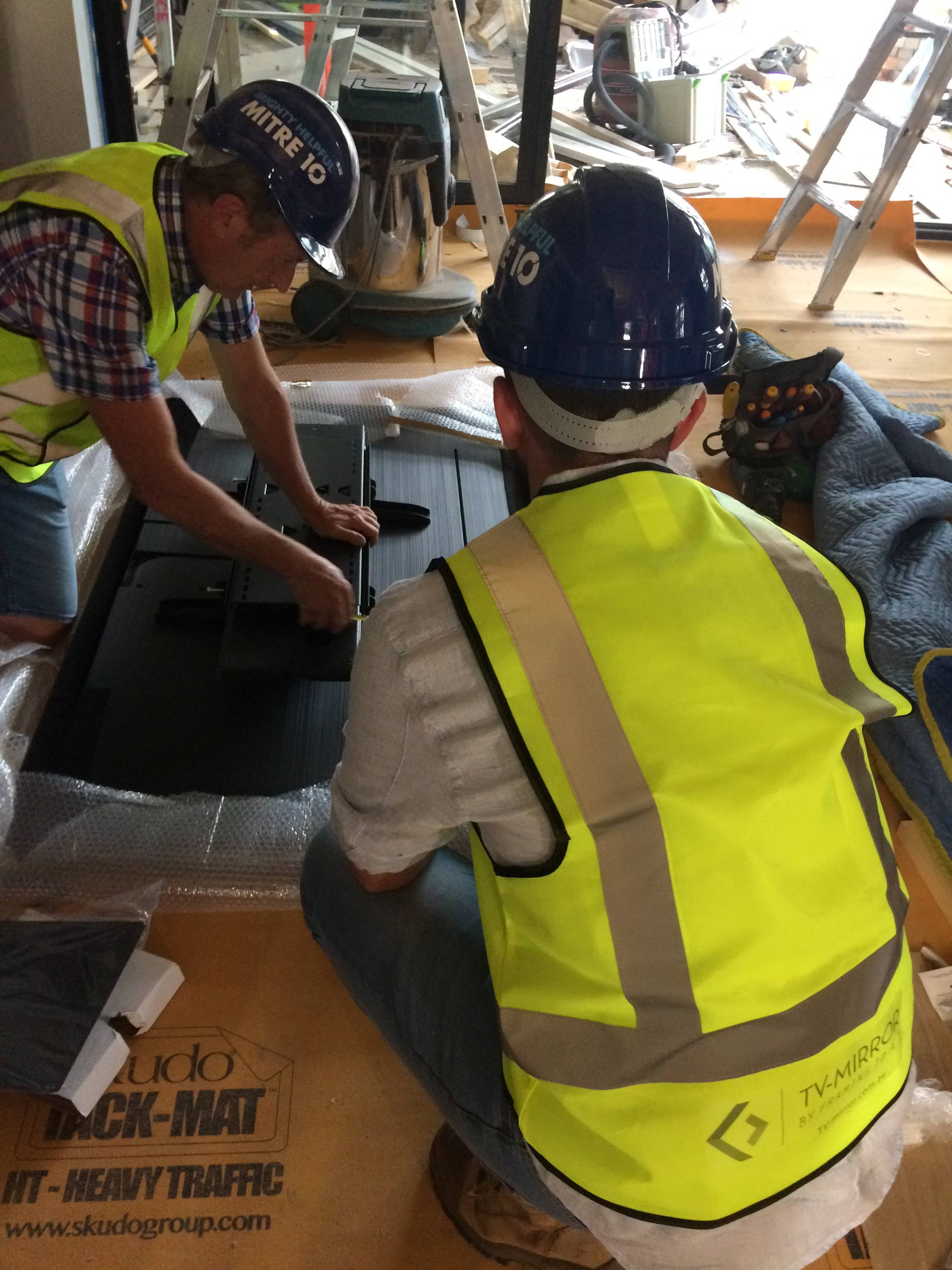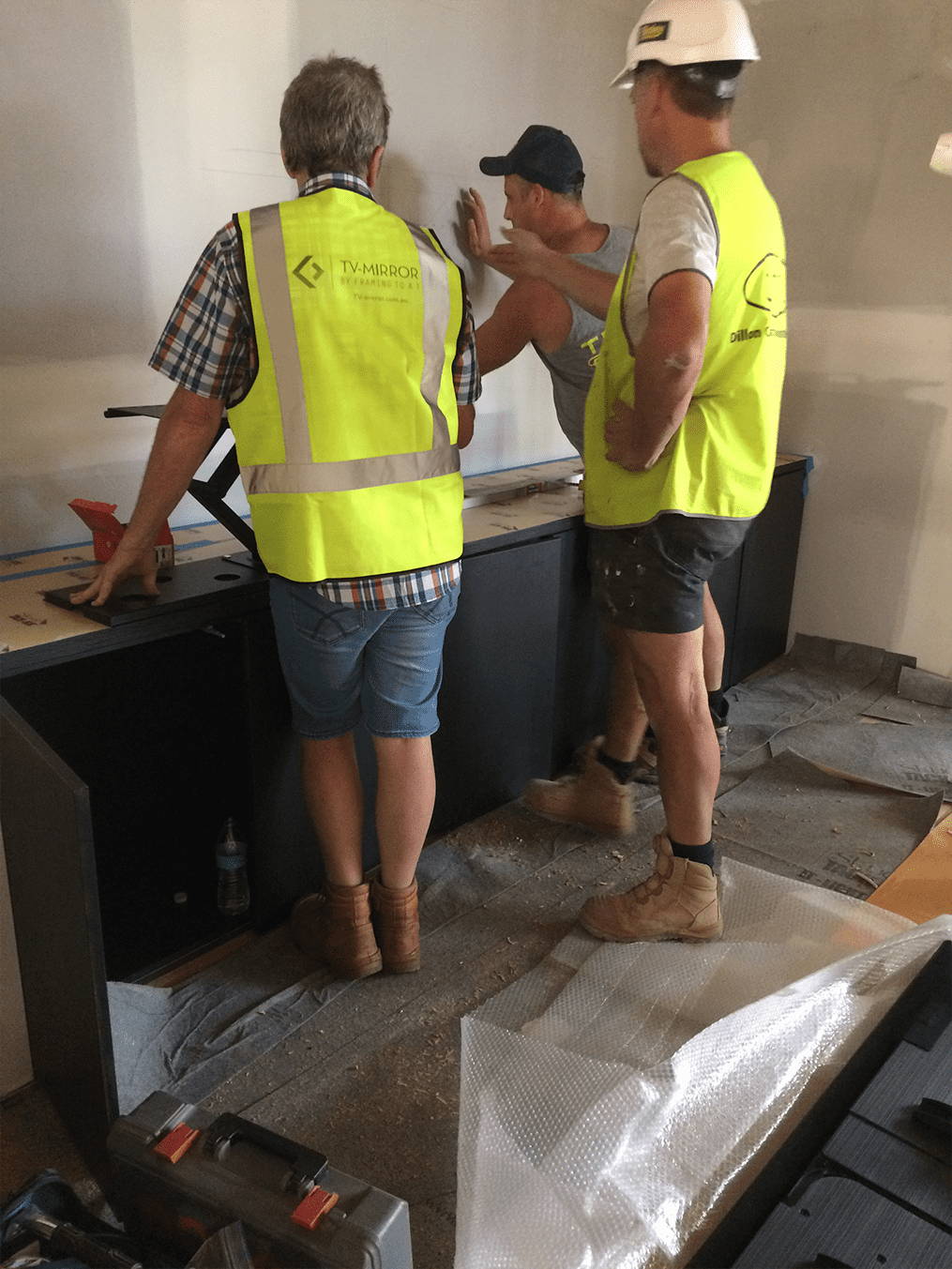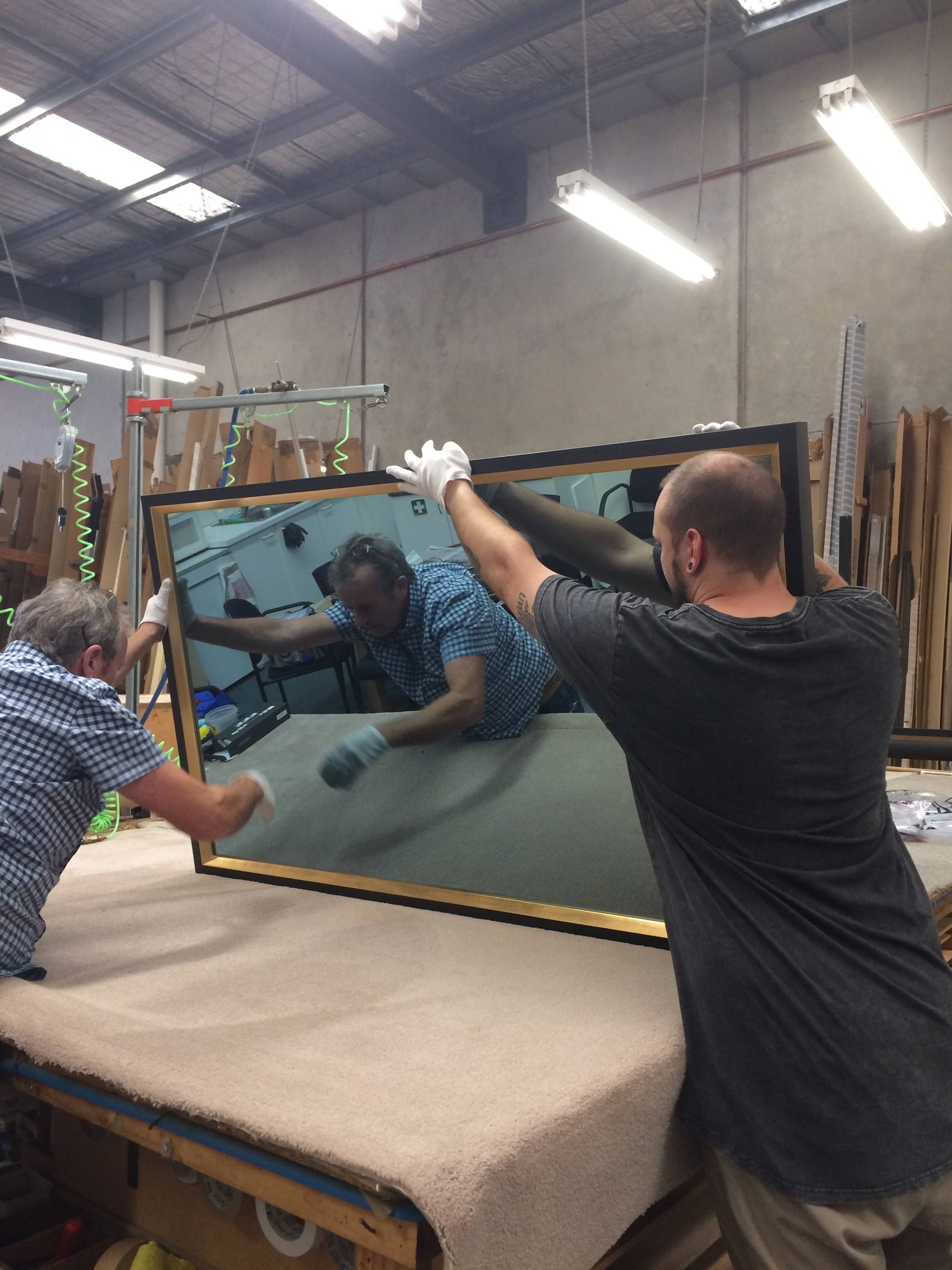 Experienced renovators from SA, Kerrie and Spence entered the competition with an edge. With a background in prestige builds, their home even having been featured in Grand Designs, the pair have a wealth of knowledge behind them to create stunning interiors on The Block.
This couple have style and an eye for design so we were over the moon when they scored a voucher earlier in the season for a TV-Mirror by Framing to a T.
Kerrie and Spence created an inspired brief for their living and dining space, with Spence's signature coffered ceiling to be the room's stand-out feature.
When Kerrie visited our Brighton boutique, she had a clear vision of her styling for this space, so we helped her design an exquisite custom-made TV-Mirror that would work in with their interiors perfectly. Kerrie spoke of the warm tones she had selected for her materials and finishes. Rich timbers, tan leathers, textured rugs and accents of gold.
When designing a custom-made TV-Mirror we guide our customers in selecting a TV size, mirror size, and frame that complements their interior space.
Kerrie knew she needed a 65'' TV to create balance between the TV-Mirror and the large 3 metre console it would be installed above. The horizontal shape of the mirror is a neat shape, fitting perfectly in the space without taking away from the coffered ceiling. The horizontal orientation of this mirror shows a vast reflection of the space and beautiful interior including the artwork on the opposite wall.
We didn't like to compete with Kerrie's understated styling by choosing a large or ornate framing design, so together we arrived at a matte black square frame with a gold inner detail to frame the TV-Mirror.
The matte black square frame has a high profile that measures 50mm. This depth that the frame brings creates visual balance. The front profile is narrow, and this is what your eye settles on, a modern, minimal effect. The 50mm depth on the side, gives proportion to the large-scale mirror while still looking sleek and minimal from the front. The height of the frame also gives perfect coverage from the sides to cover TV itself. The gold accent frame sits beneath the first frame creating a subtle feature of elegance and harmony with the other gold accents in the room.
While in our Brighton store, Kerrie also spotted 'The Knot' sculpture. Finishing your space with artful objects can take an interior to the next level. This exquisite sculpture is made of moulded aluminium, finished with Antique Gold Patina.
Kerrie and Spence have nailed this living and dining room. Quality, comfortable, practical, warm, welcoming, no fuss, understated. Timeless and elegant, Kerrie and Spence your design vision and execution was incredible. You created such a beautiful space, and we are so proud to have worked with you.
We would love to thank the producers, set directors and film crew for a beautiful representation of our product. Thanks to the admin team and the staff at The Block Shop.We encourage you to visit The Block Shop pop up in St Kilda to see our TV Mirror for yourself.
Alternatively, you can visit any one of our locations, Framing to a T Brighton, Berwick or Hallam.
Reveal photos courtesy of The Block Shop.