Why Jimmy and Tam love Slim Aarons Prints for their Palm Springs Home on The Block 2020
Queensland couple,
Jimmy and Tam
have embraced the brief of building, designing and styling a 1950s-inspired home on
The Block
this season.
The Mid Century facade of the re-located house, originally built in the 1950s sits right at home in the beautiful streetscape of bayside Brighton.
It is wonderful to see this celebrated Mid Century history re-located and re-imagined by The Block producers when there are many modernist and period homes being demolished across Melbourne for new developments.
The Palm Springs influence of the original architecture sets the tone of the home before you make your way through to the modern extension.
Jimmy and Tam have shared their fabulous style, with
bold ideas
in their design and styling throughout this
spectacular Brighton home.
Tam's use of colour creates character and warmth in each space.
W
hen introducing art to their interiors, Jimmy and Tam have loved Slim Aarons
photography to bring vintage glamour and a beautiful mood to their home.
Slim Aarons prints work beautifully with their
colour palettes and the vintage photography from the 1950s creates a story
throughout the home.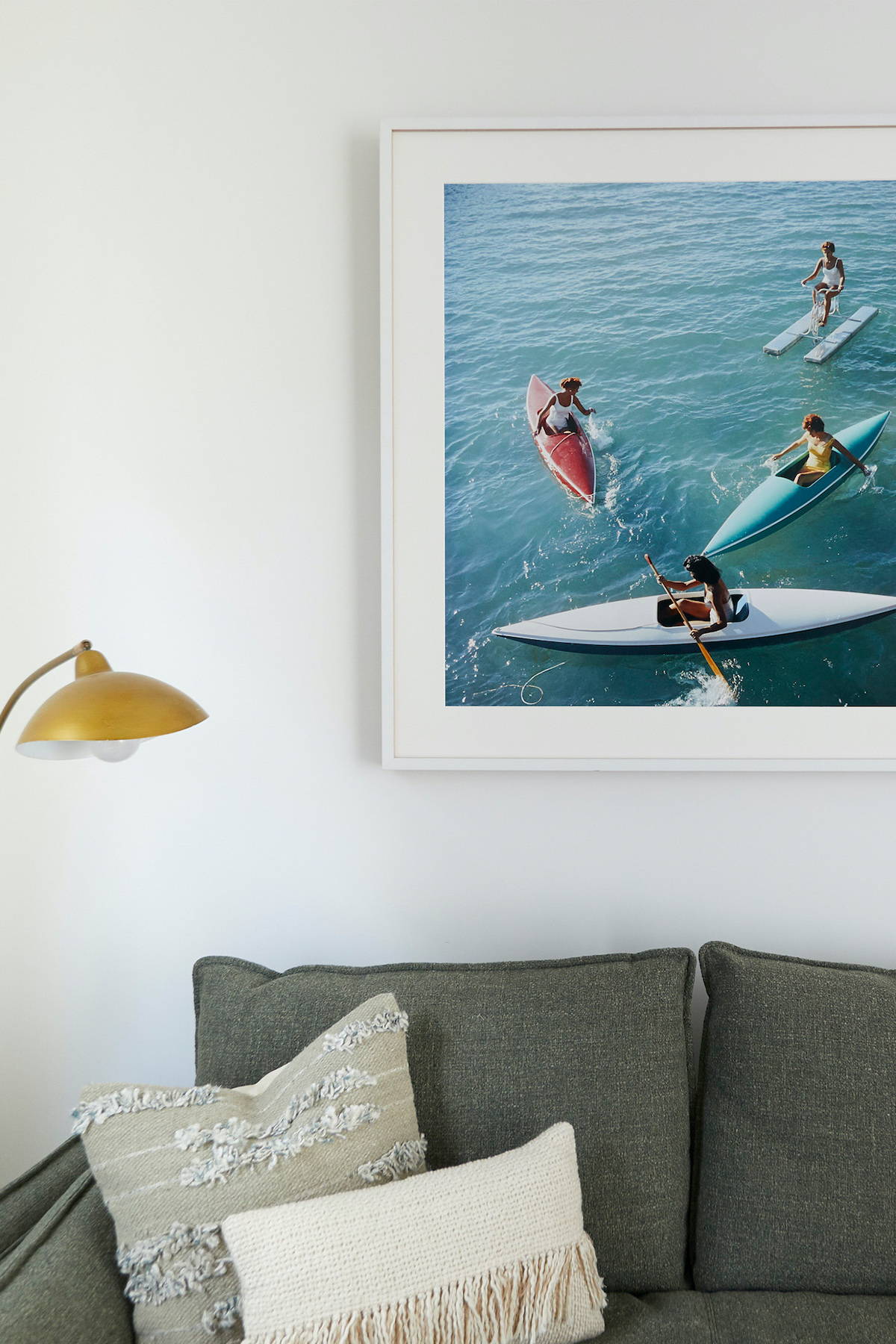 With the amount of Block challenges won, Jimmy and Tam have had the ability to invest in each space, introducing quality framed artworks, occasional furniture and styling elements to complete their build with a high end finish.

In Jimmy and Tam's Media Room, the couple looked to bring a vintage vibe to this modern space in their home with a Slim Aarons photographic print sourced and framed by FRAMING TO A T.

With Slim Aarons' archives spanning decades, we had no trouble curating a selection of 1950s works to share with Tam for her to select from. Her first Slim Aarons print of choice to introduce to the Master Bedroom in Week 3 of The Block was 'C.Z Guest', which set a beautiful mood in the space and captured everyone's attention.
In the Media Room, Jimmy and Tam furnished this space with an exquisite sofa in a sea moss green linen and a rounded brass side table by GlobeWest. Styled with a sculptural brass lamp, earthy floor rug and cushions, Tam has created a beautiful lounge space anyone would love to settle into.
To complete this space, Tam visited FRAMING TO A T to purchase another Slim Aarons photographic print. We were working with a smaller space for the Media Room, but wanted to consider the rectangle lines of the sofa and the TV on the opposite wall.
A square framed print was the ideal choice for finishing this space and Tam found herself loving the colours and the candid, playful photography in 'Lake Tahoe Trip' by Slim Aarons.