At Home with Krystal & Nick | Customer Story
We are very excited to share this customer story with you, featuring some exquisitely framed wedding photography.
Krystal and Nick visited FRAMING TO A T for assistance with custom framing their wedding photographs. Together we came up with some beautiful concepts and they welcomed us into their home to capture the completed custom framing, photographed by
Martina Gemmola.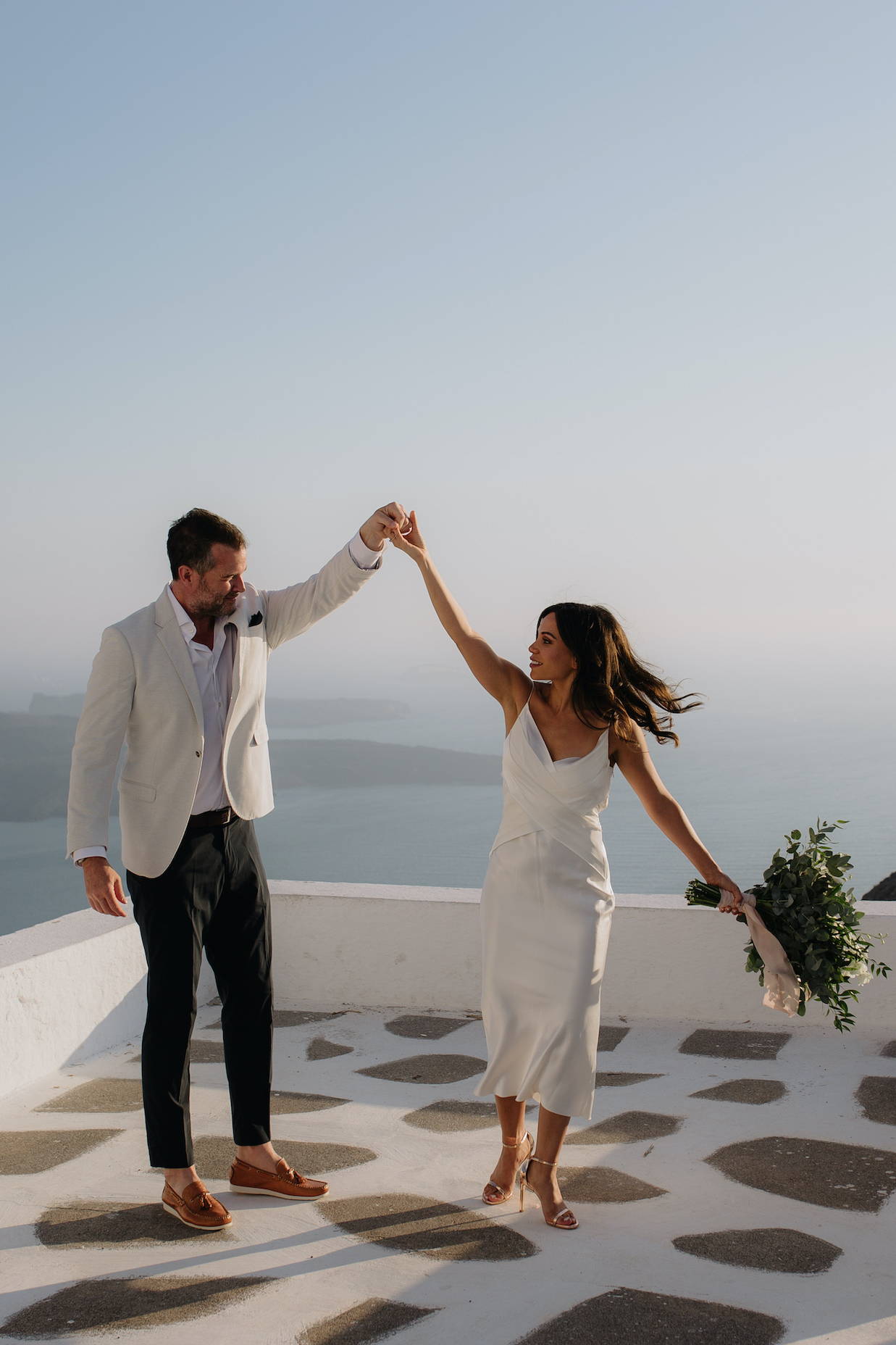 Krystal and Nick eloped to Greece for their wedding and had their day beautifully photographed to share with their family and friends back home.
When Krystal visited us at FRAMING TO A T with her stunning wedding album, she was looking to have some of her favourite shots printed and framed to feature in the hallway.
There are so many ways to create a gallery-style feel with art placement through frame design and installation. Although Krystal and Nick's favourite images were in landscape format, they did want to create a feature that was flowing with the length of the hallway.
For a clean, crisp finish, we planned how the framed wedding photography would be installed, side by side, but keeping the images in the original landscape orientation, rather than cropping to have them in portrait orientation. With the use of an exaggerated mat board, each framed photograph was finished vertically. This helped us achieve balance, scale and beautiful design.
The use of a mat board around framed photography and art can allow the eye a place to rest. For this scenario, the landscape images are featured in the top of the mat board surround, rather than the centre, as visually this is a cleaner, more sophisticated aesthetic, perfect for Krystal and Nick's interior style.
We do all our custom framing in-house with a focus on conservation and quality of design. We also offer photographic printing to our customers like Krystal and Nick, but we out-source this service to a photographic lab. With professional photographic printing, this couple's beautiful elopement memories were then completed with framing to complement both the photography and their style of home.
In the hallway, we opted for a white frame with natural oak side detail to complement the floorboards and also soften the overall look, as we were seeing a lot of white with the design of the large mat board.
In the bedroom, Krystal and Nick arranged one wedding photograph to be printed large-scale and framed in a matte white frame. We opted for a crisper, all-white look in this space to keep the harmony of the soft colour palette in the space and have this exquisite, sculptural photograph make an impact.
Take a peek through this beautiful home, photographed by the exquisite Martina Gemmola.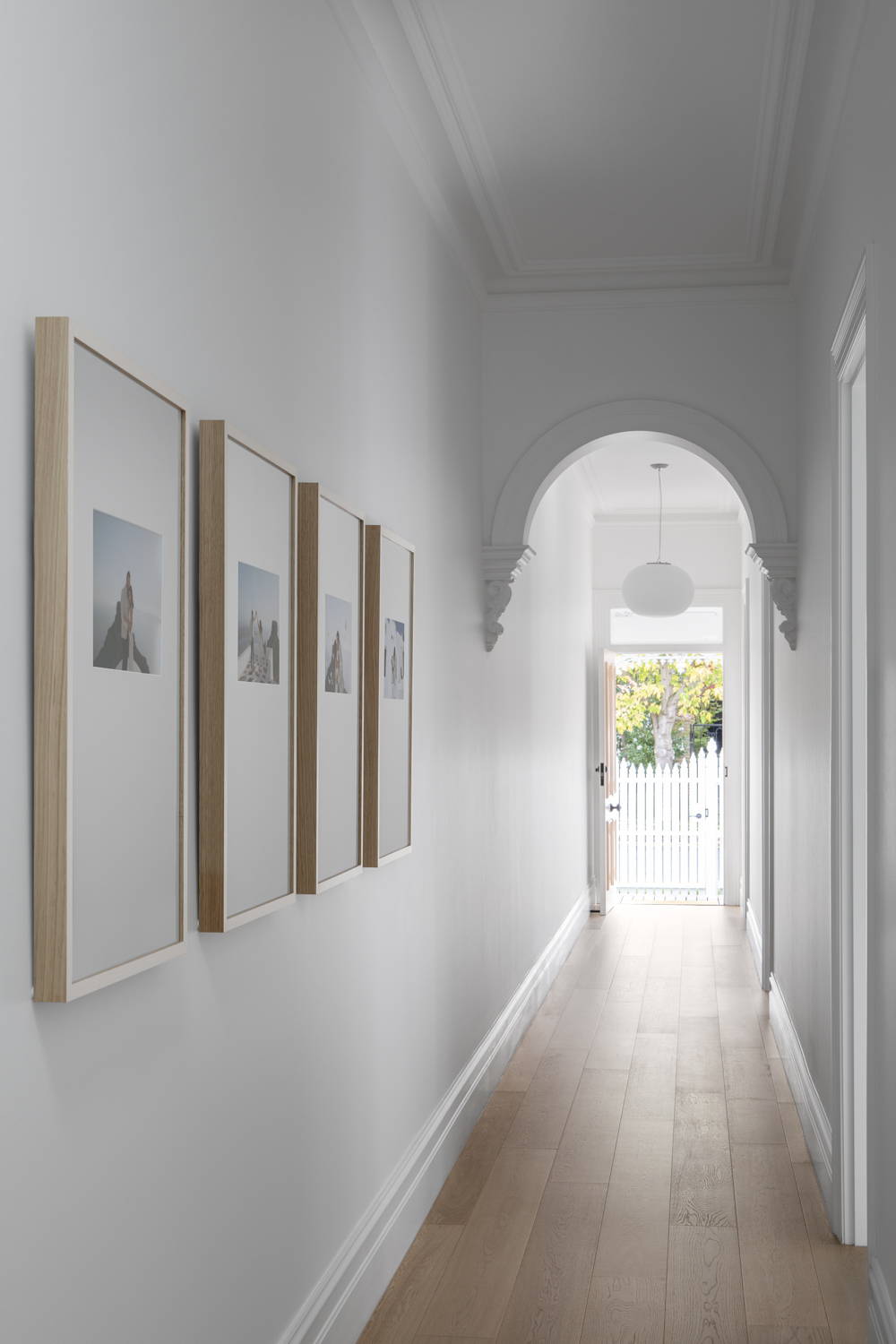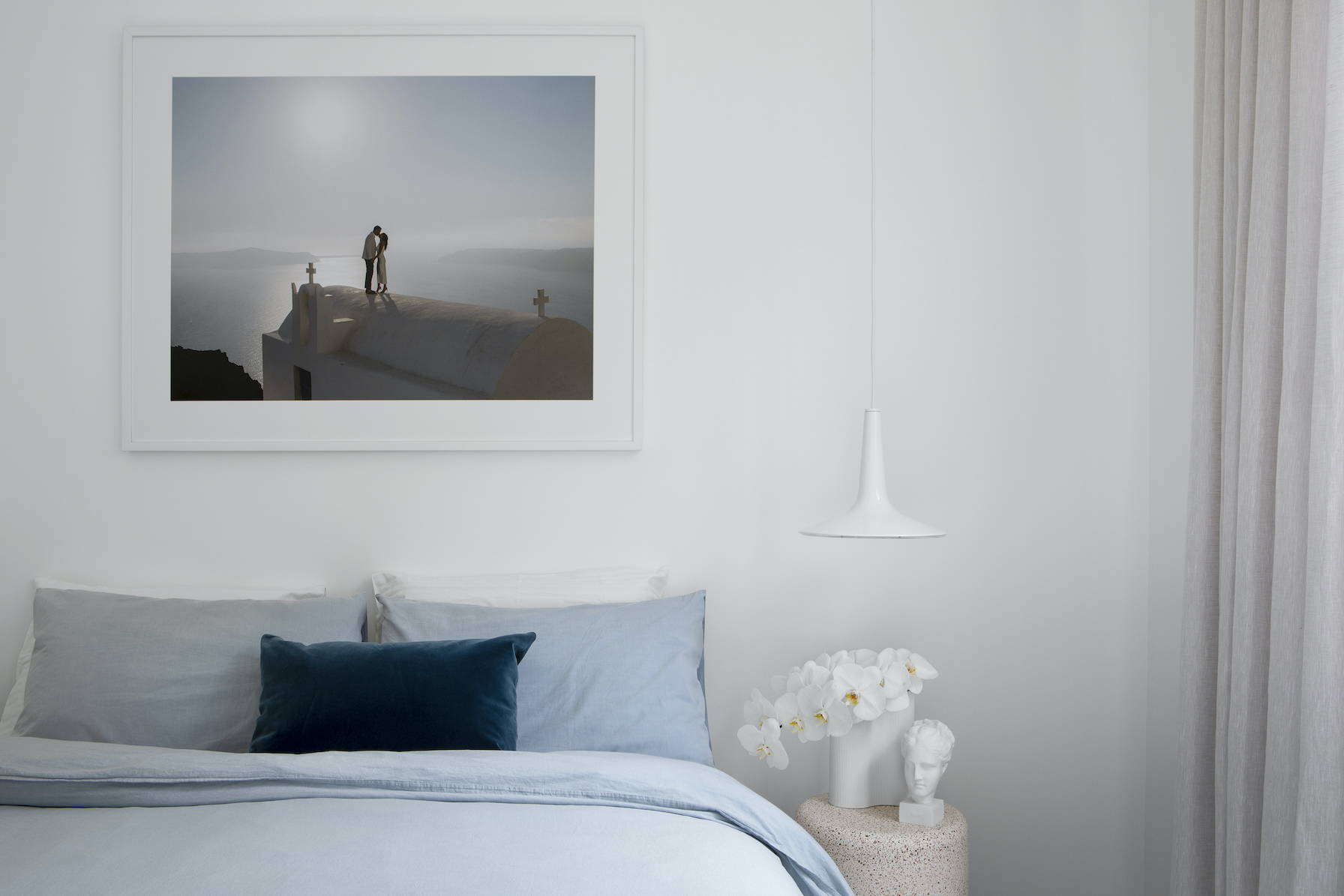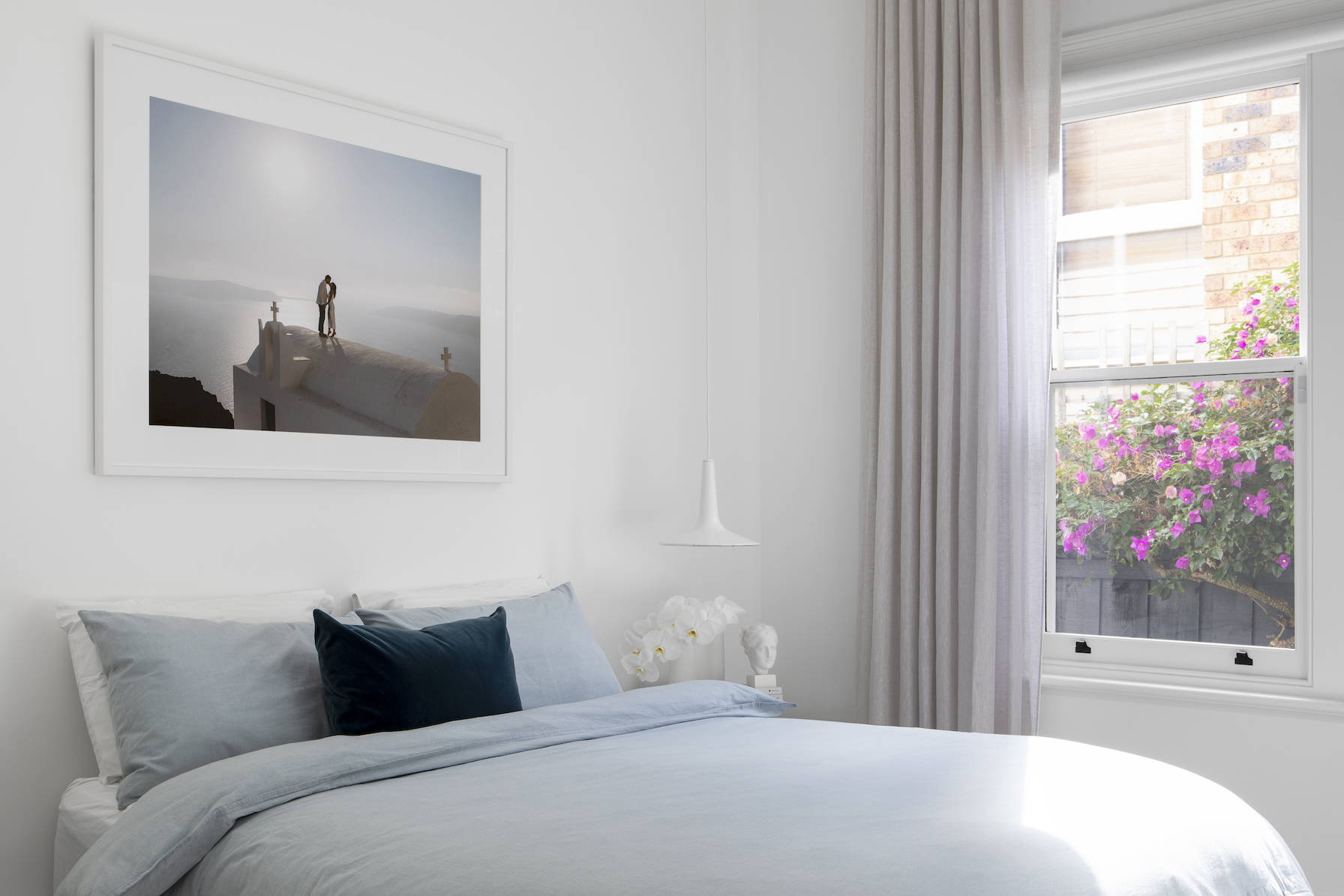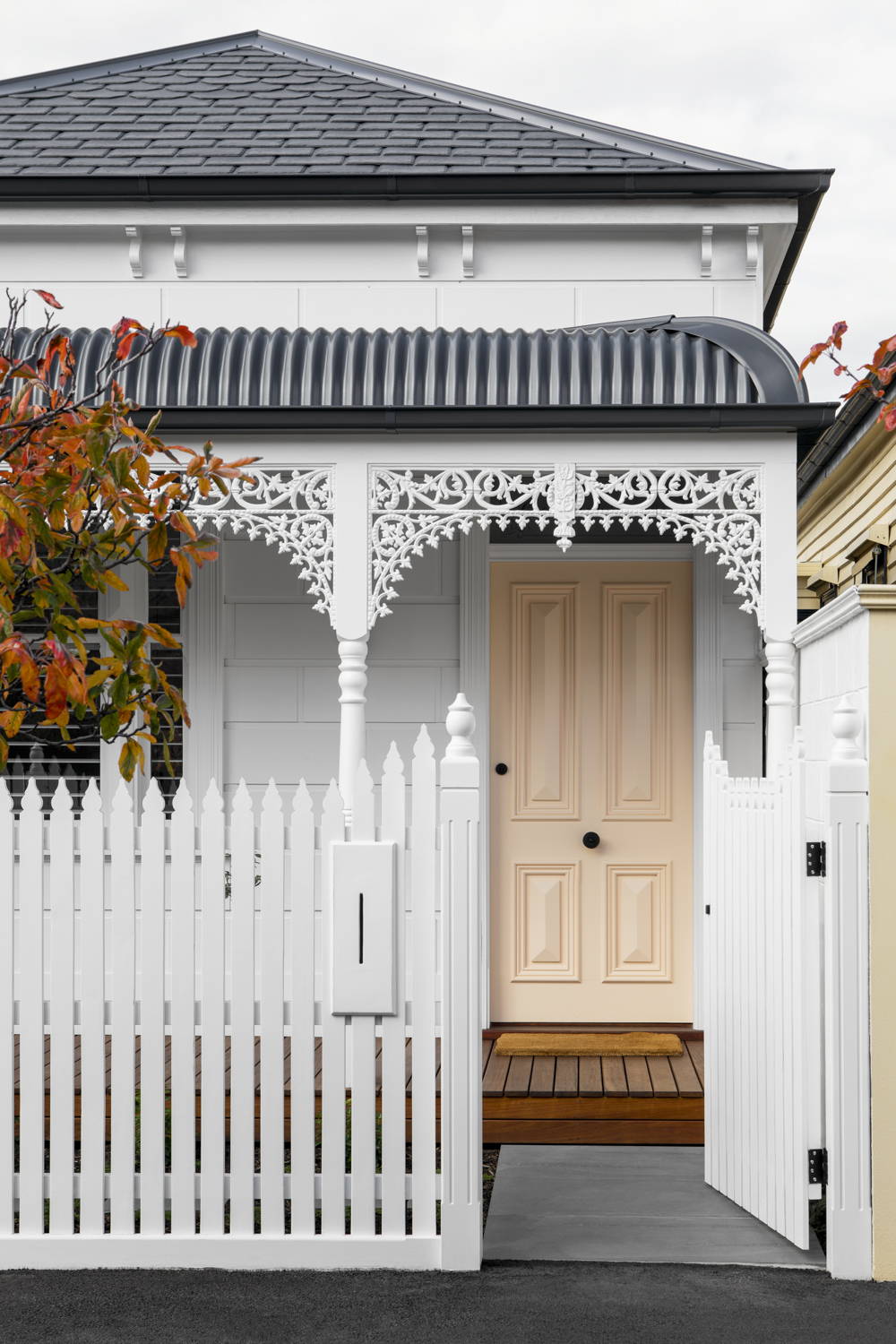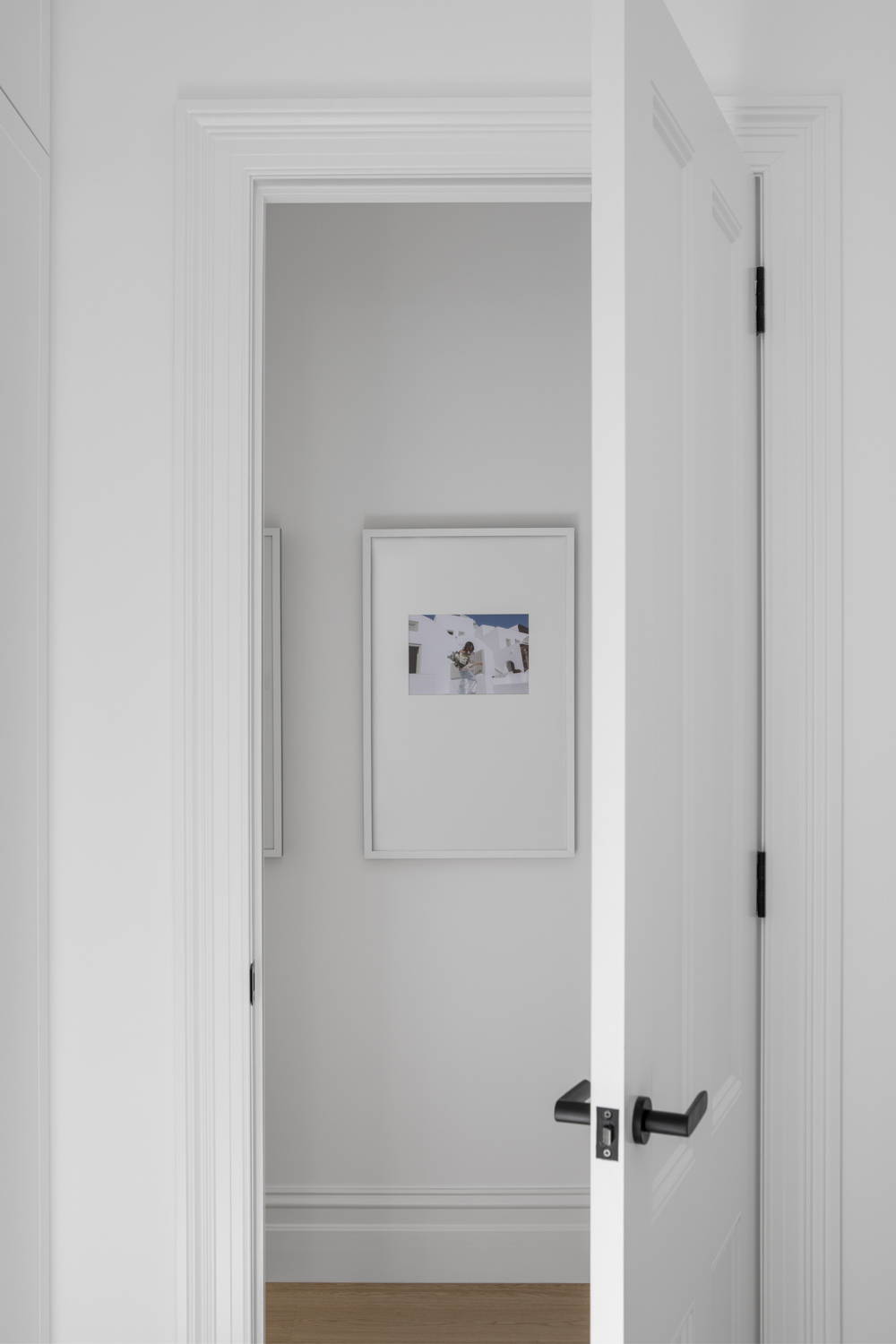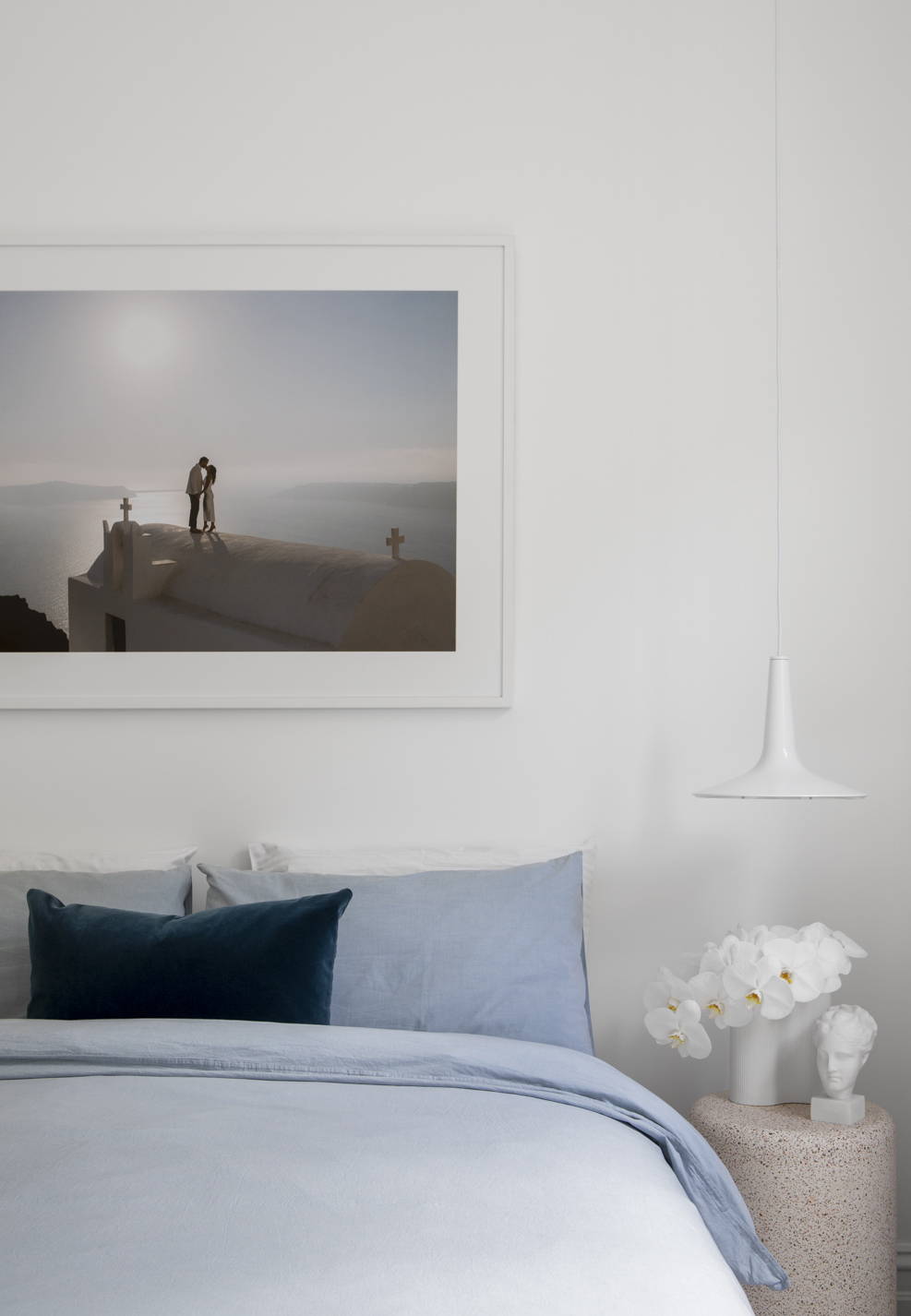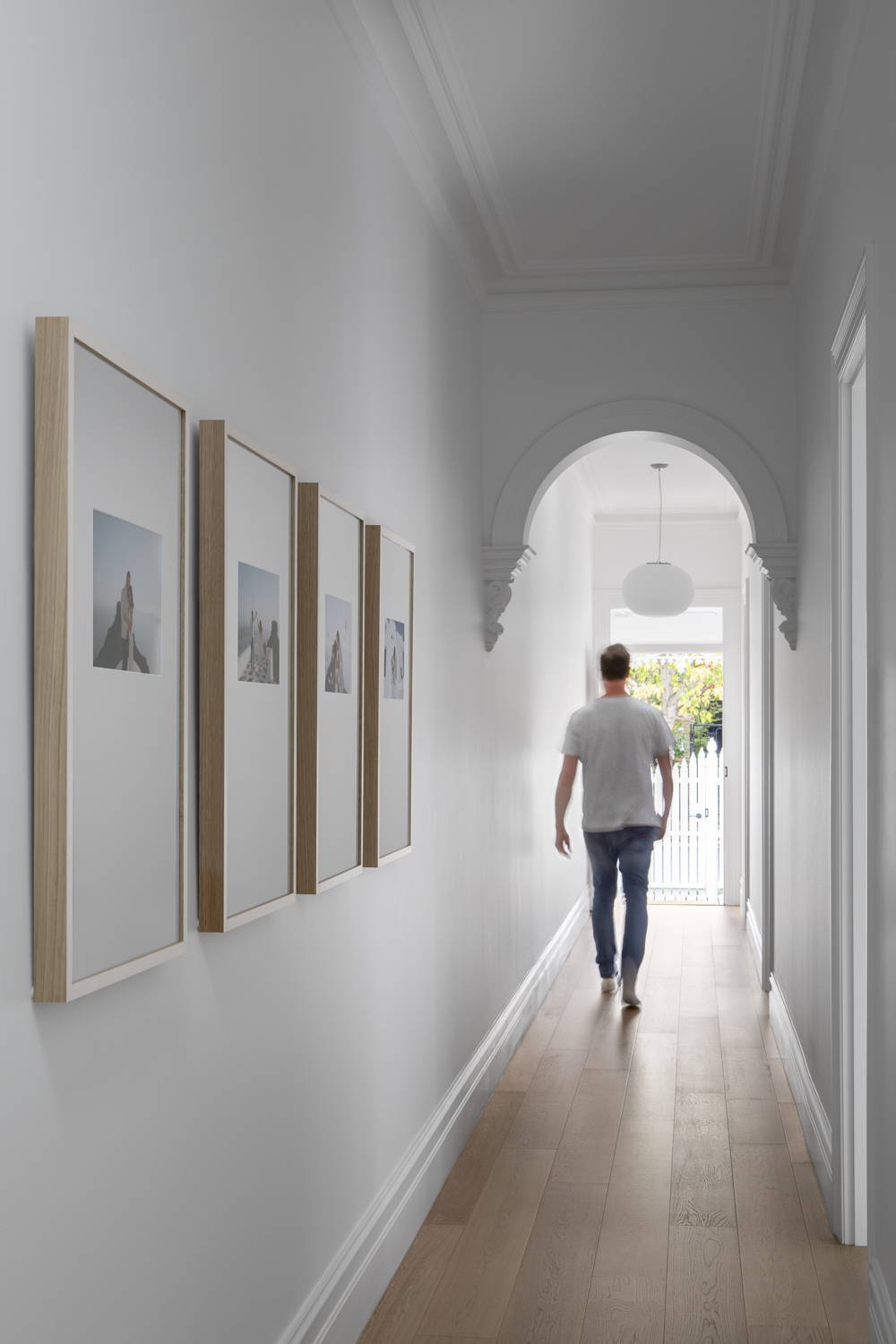 We chat with Krystal about her elopement wedding in Greece, her beautifully captured wedding photography and her experience with custom framing these incredible memories.
We'd love you to share a little bit about your elopement in Greece. What does this destination meant to you both?
Santorini was a dream location for our elopement. The Cycladic architecture on the island is awe inspiring.
The brilliant whites and blues, the picturesque churches, the wonderful pools and hotels that are simple with straight lines and gentle curves - all under the Mediterranean sun. It was perfect for the aesthetic we wanted.
You had a small ceremony in a church, tell us a bit about your wedding day!
The ceremony was on the balcony of our hotel room and it was more than we could have ever wished for. One of the most vivid memories I have was when I was halfway through reading my vows and I started crying (happy tears!).
Nick was helping to wipe away my tears and my heart was just overflowing with love for him. I'll never forget that moment.
To be truly present in the moment we knew it had to be just the two of us. It was about our love and starting our incredible journey as husband and wife. Every detail of the day was truly a reflection of us. And with Santorini as our backdrop - what more could you want!
Capturing the day to share with your families and friends with exquisite wedding photography is so incredible.
How did you discover your wedding photographer?
We found the photographer on Instagram. They are a young, very talented couple from Thessaloniki in Greece and as soon as we saw their work, we knew they were right for us. We didn't want traditional posed wedding photos. We wanted the photos to tell a story and capture the day as naturally and authentically as possible. They captured it beautifully. We were blown away and so were our friends and family when we shared the photos.
You visited FRAMING TO A T to arrange printing and framing of your favourite wedding photos, we'd love you to share how did you decide which images to work with and how did you know where you wanted to have them hanging in your home?
It was difficult to decide which photos to print and frame. I wish we could have picked all 400 of them! Cath and Annie were incredibly helpful. Their knowledge, advice and fresh eyes were exactly what we needed. We ended up selecting our most favourite moments from the day and the ones that tell the story of the day the best. We decided on 4 photos for our hallway in a gallery style so that when our family and friends visit, it tells the story of our day as they walk through our home. We decided on the most breathtaking photo for our bedroom - it's so amazing that it doesn't look real. It's hard to believe it is straight from the photographer's camera. The photo is so romantic and dreamy and takes us back to such a beautiful memory we shared together. I still get goosebumps when I look up at it.
When we can travel overseas again, where would you both love to travel to next?
We would love to go to Japan in the Spring. Tokyo is my favourite city in the world and Nick has never been so we would love to go together.
FRAMING TO A T have been supplying quality, conservation framing since 1989. Visit us at one of our three locations in Melbourne with your art, photography, artful objects and ideas to create a custom framing solution at the counter with our Design Consultants.