At Home with Jordan Turner
Jordan Turner shares his home with us, featuring three of our exquisite framed Slim Aarons photographic prints.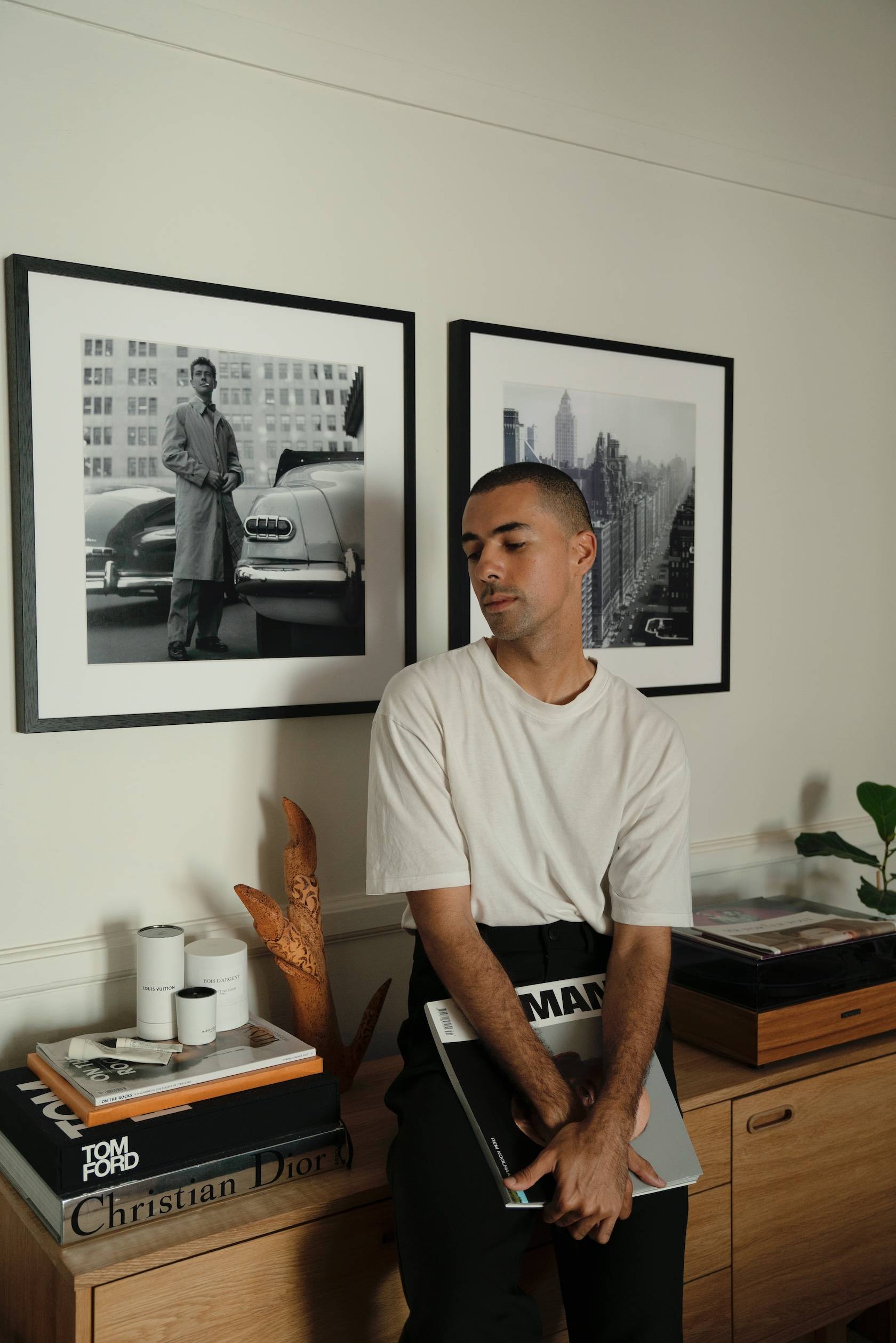 Jordan was looking to introduce some new art to his home and Slim Aarons' vintage photography was the perfect addition to his chic apartment. The mood, tone and style within an interior can be transformed by beautiful framed art. We were thrilled to source these Slim Aarons photographic prints and custom frame them to complement Jordan's space.
Capturing people in beautiful locations throughout the fifties, sixties, seventies and eighties, Slim Aarons' works include a range photography styles, however each of his images create a sense of intrigue, a story, or feeling. Slim Aarons prints are a beautiful way to bring vintage glamour into your home or creative space for those who love all things fashion and travel.
Jordan pored though the Slim Aarons archives and was immediately drawn to the more undiscovered black and white photographs from the earlier decades of the iconic photographer's career. 'A Star in Town' and 'Park Avenue', captured by Slim Aarons in the 1950s in New York are a beautiful pair in Jordan's bedroom. 'Monocled Miss', 1964, is a stunning piece for the study.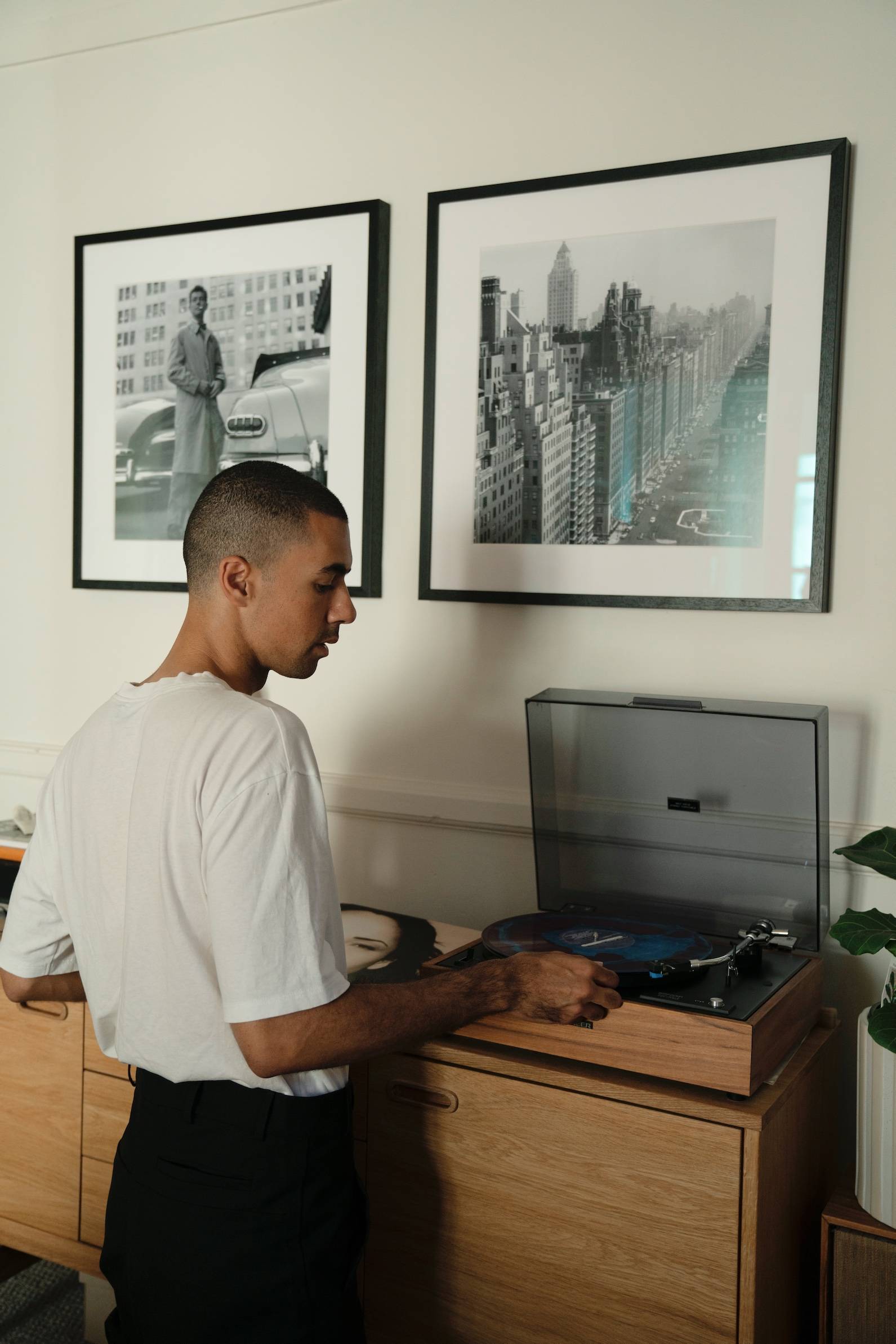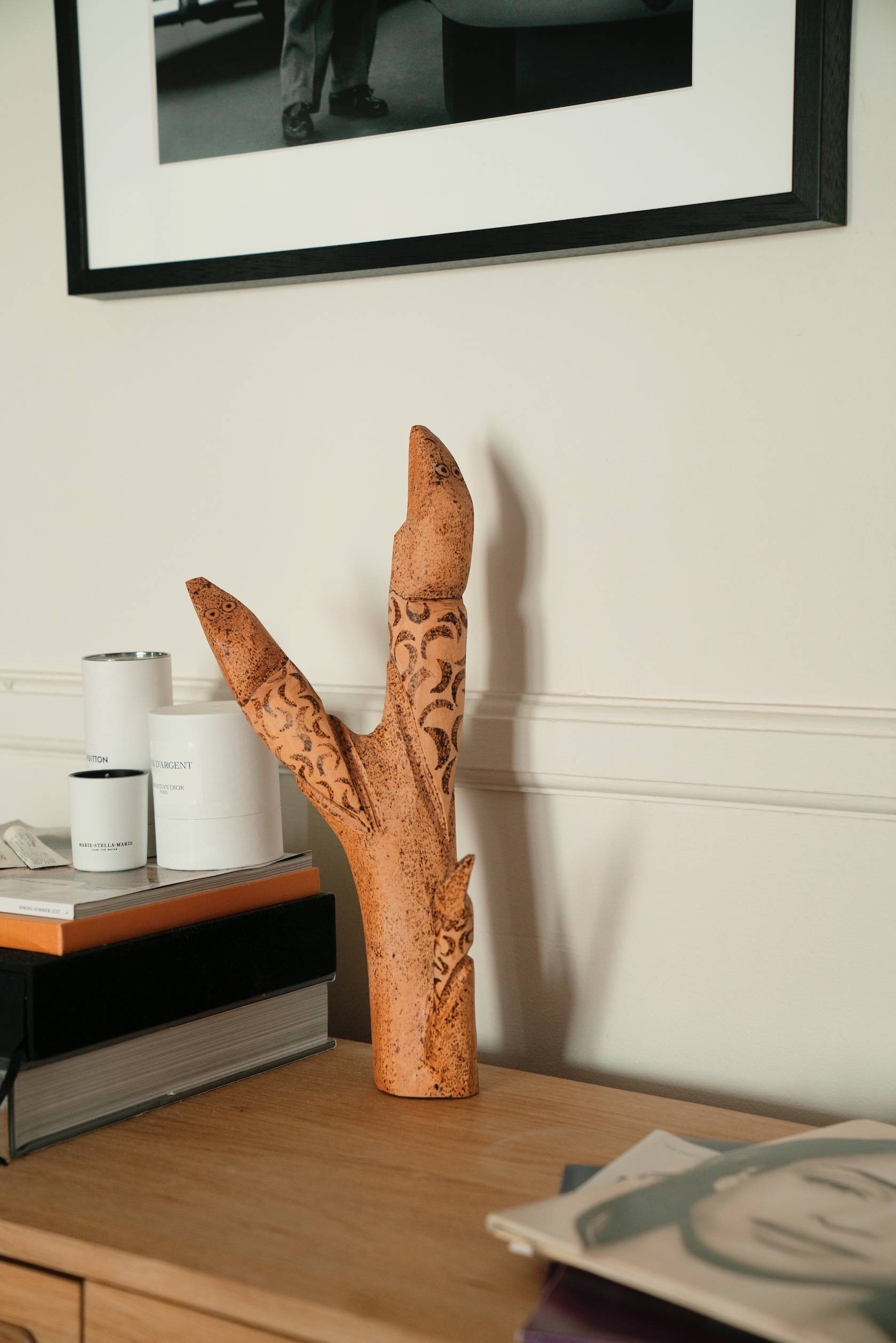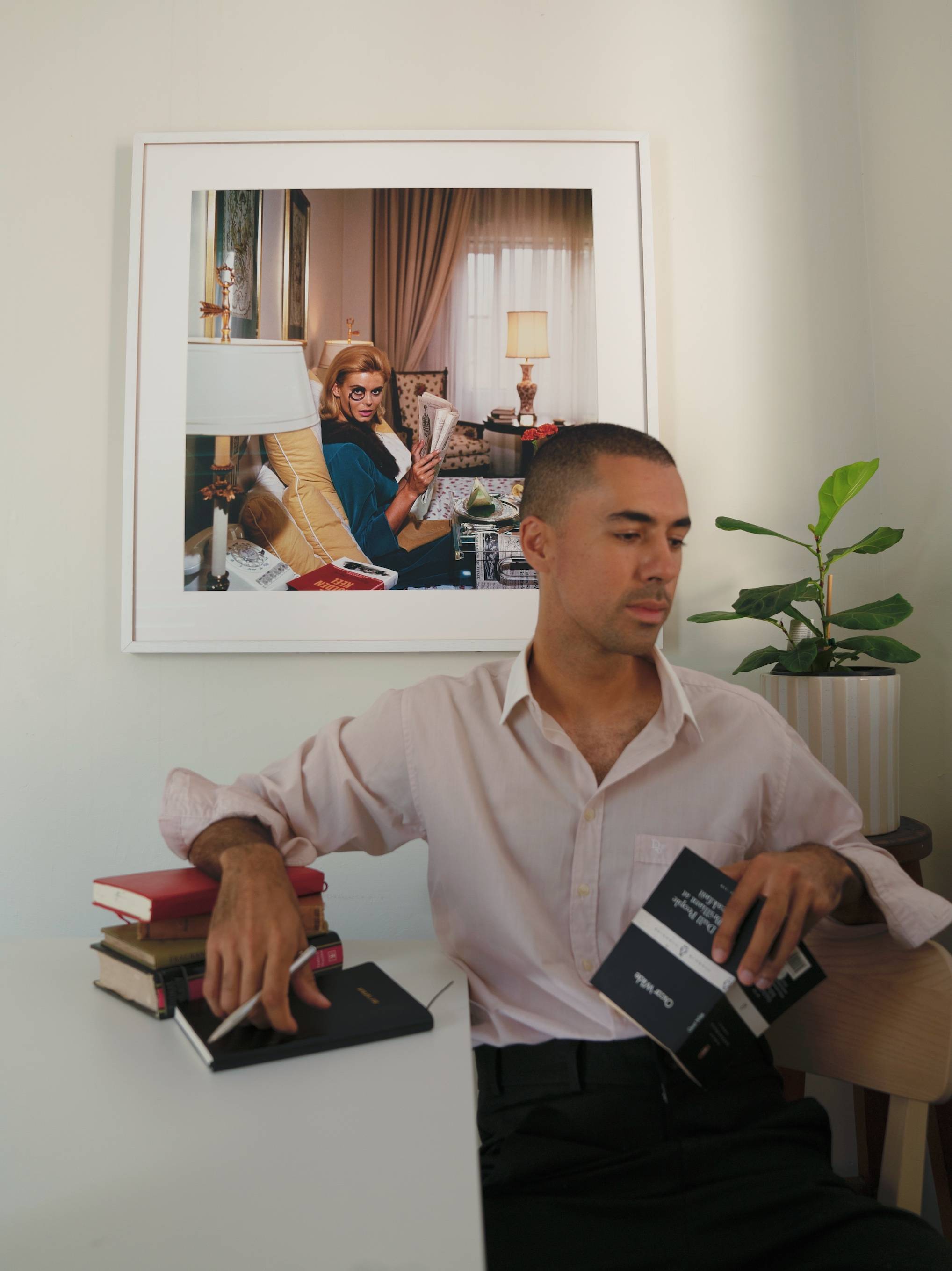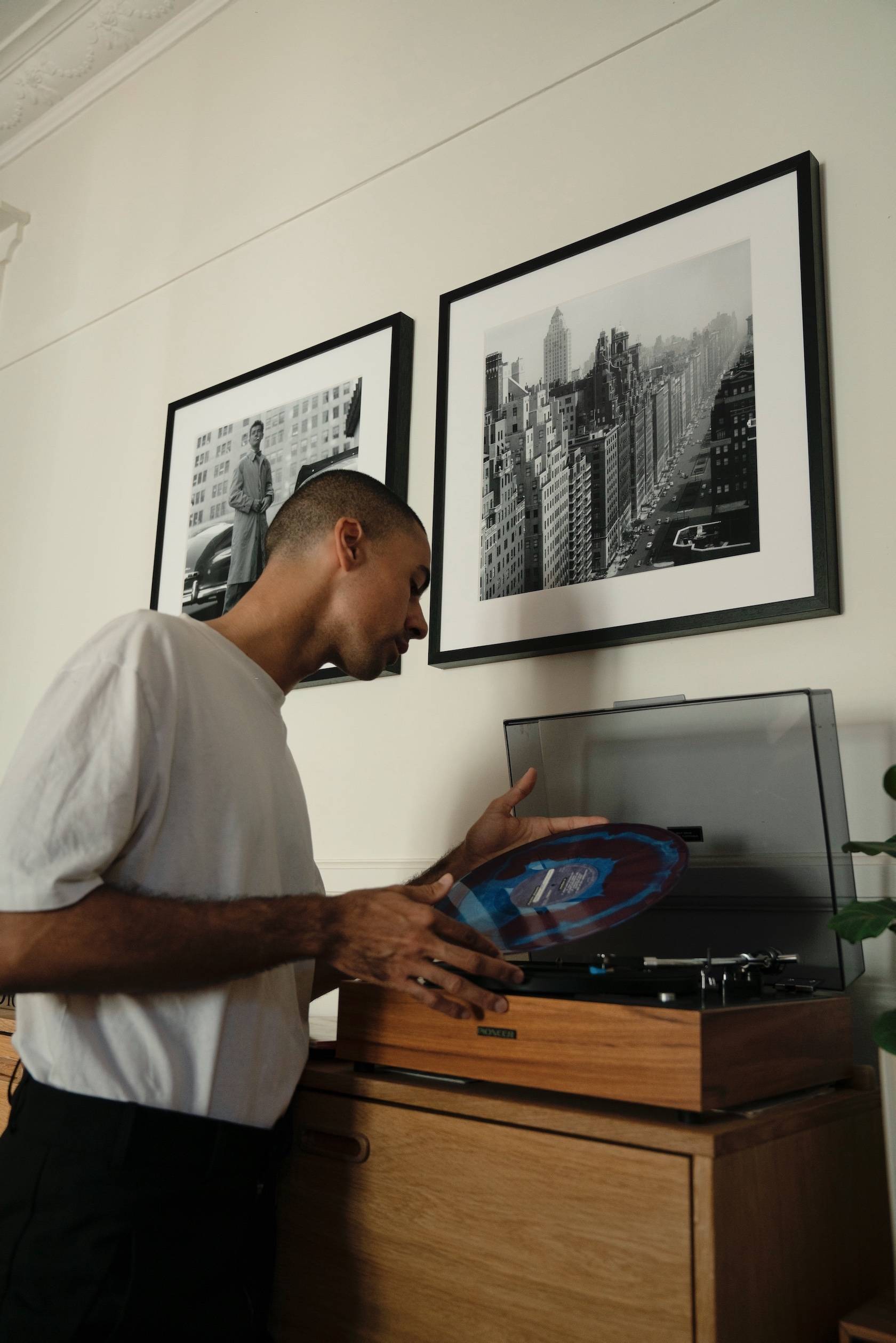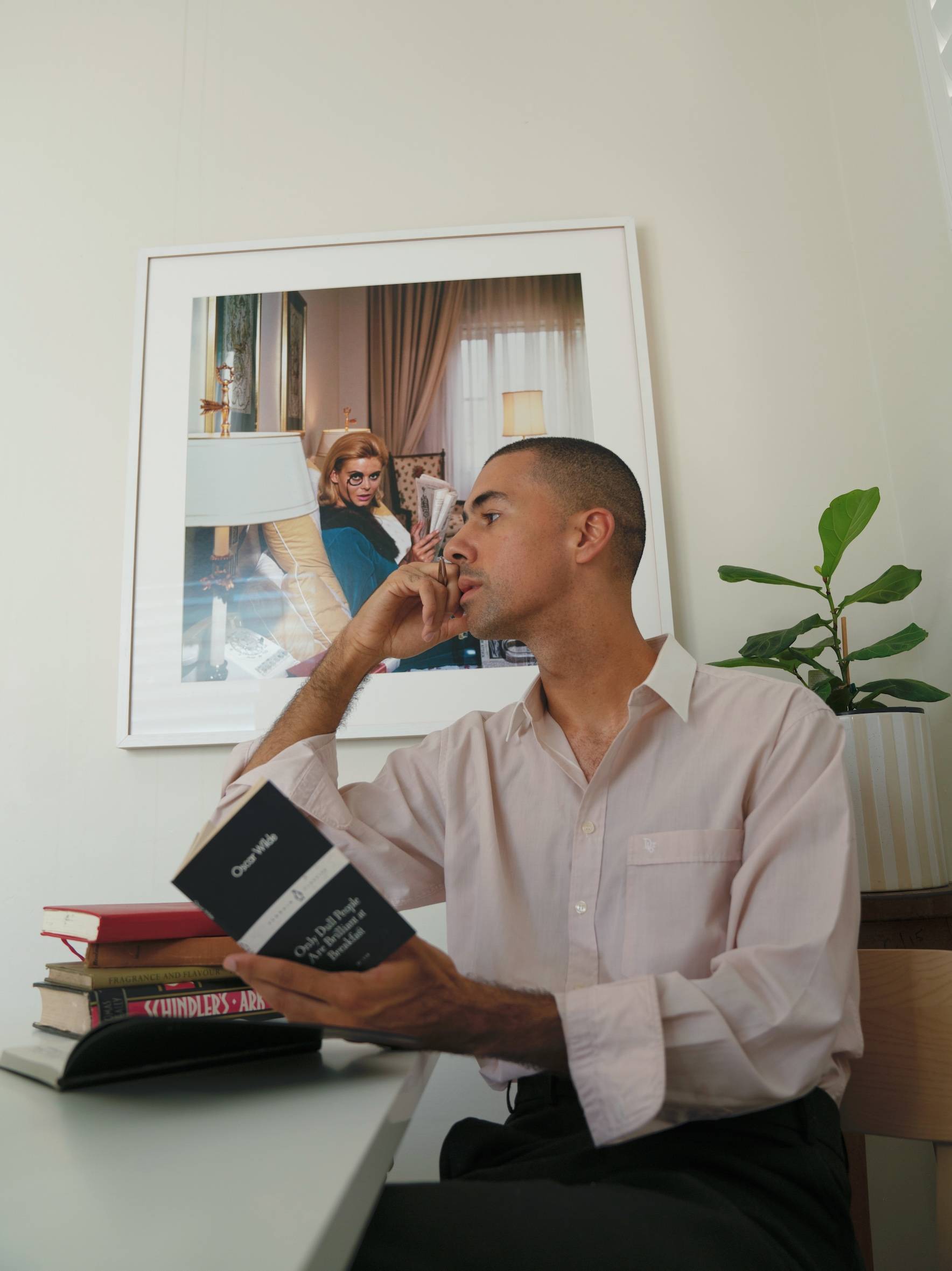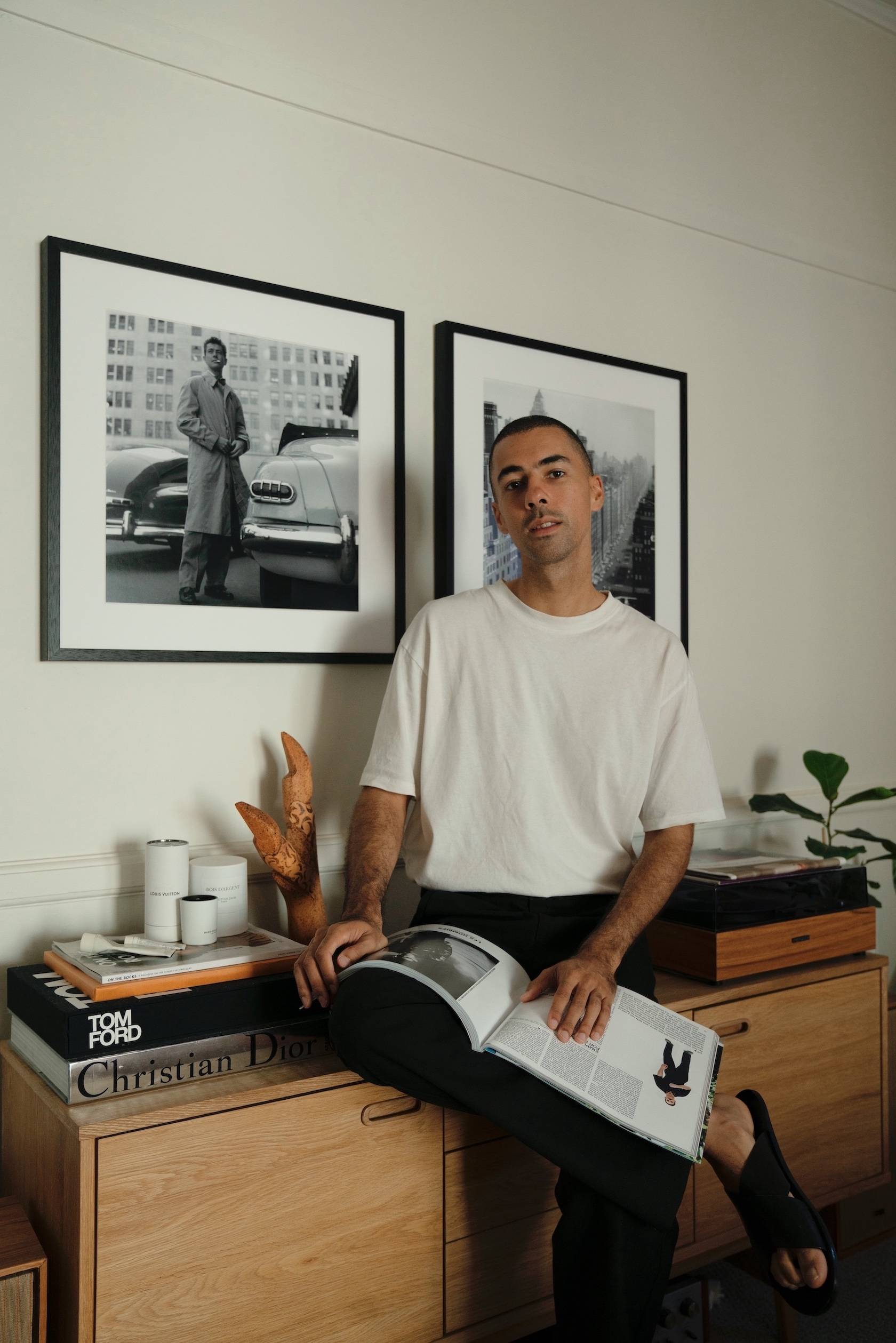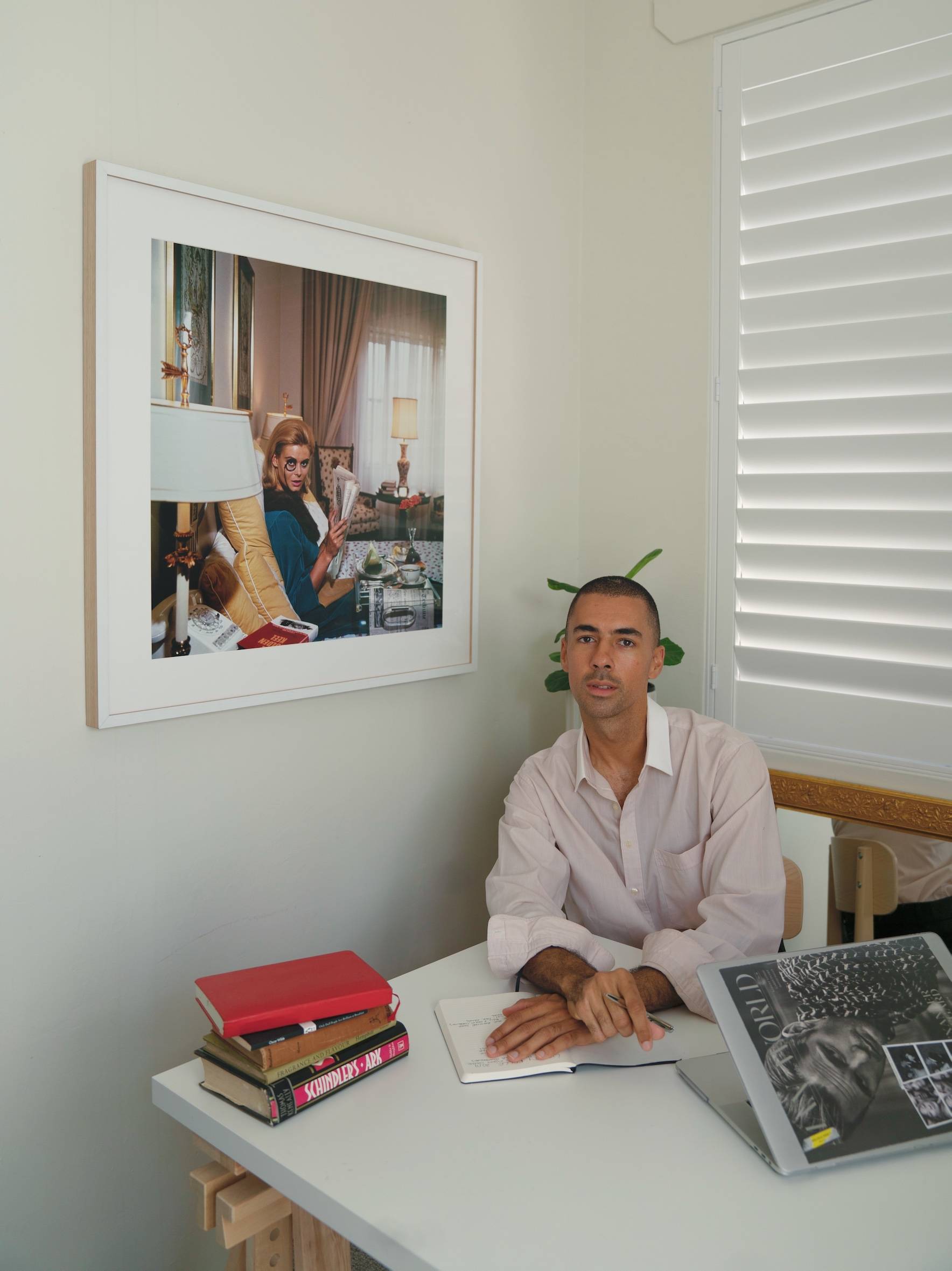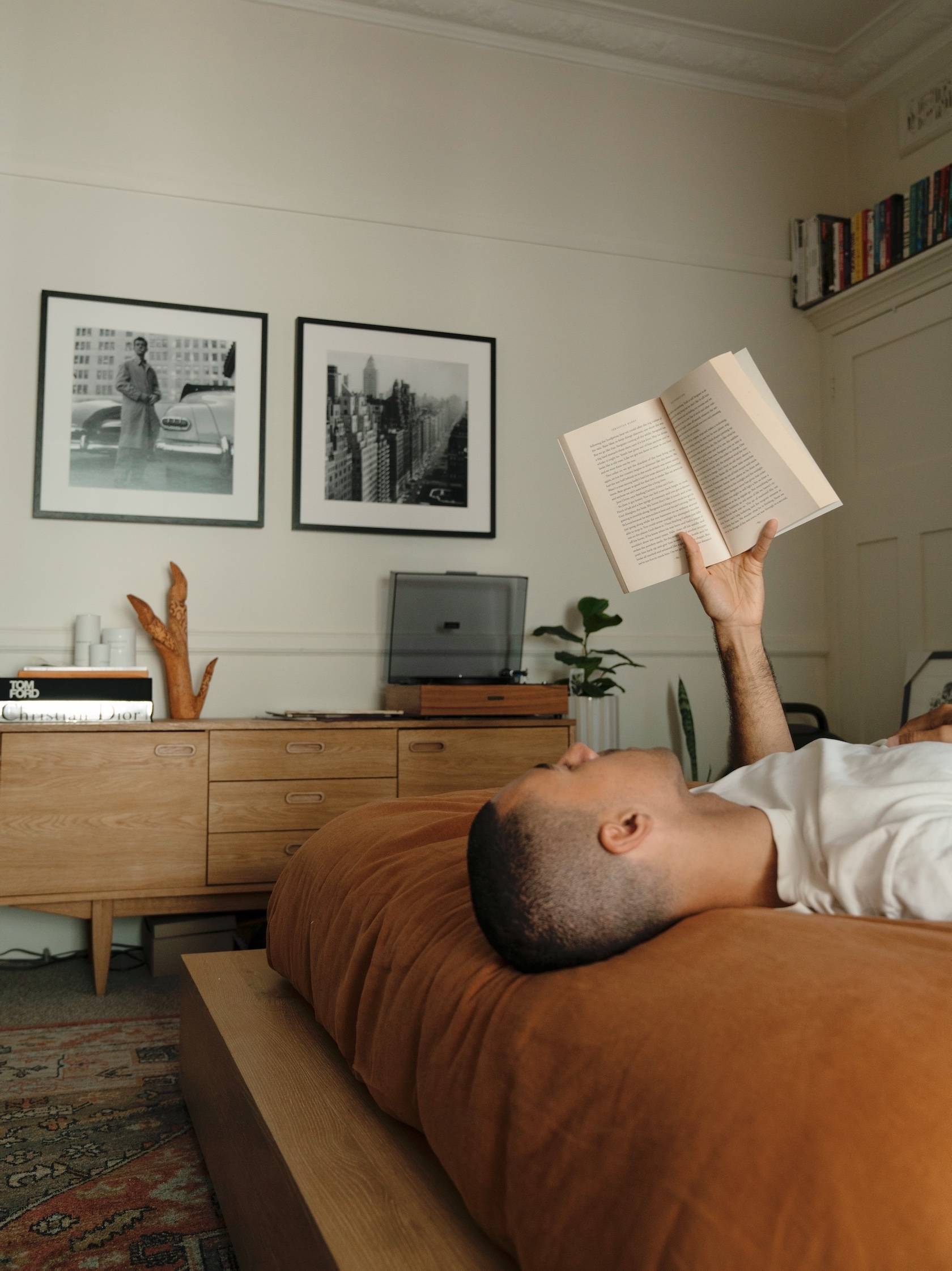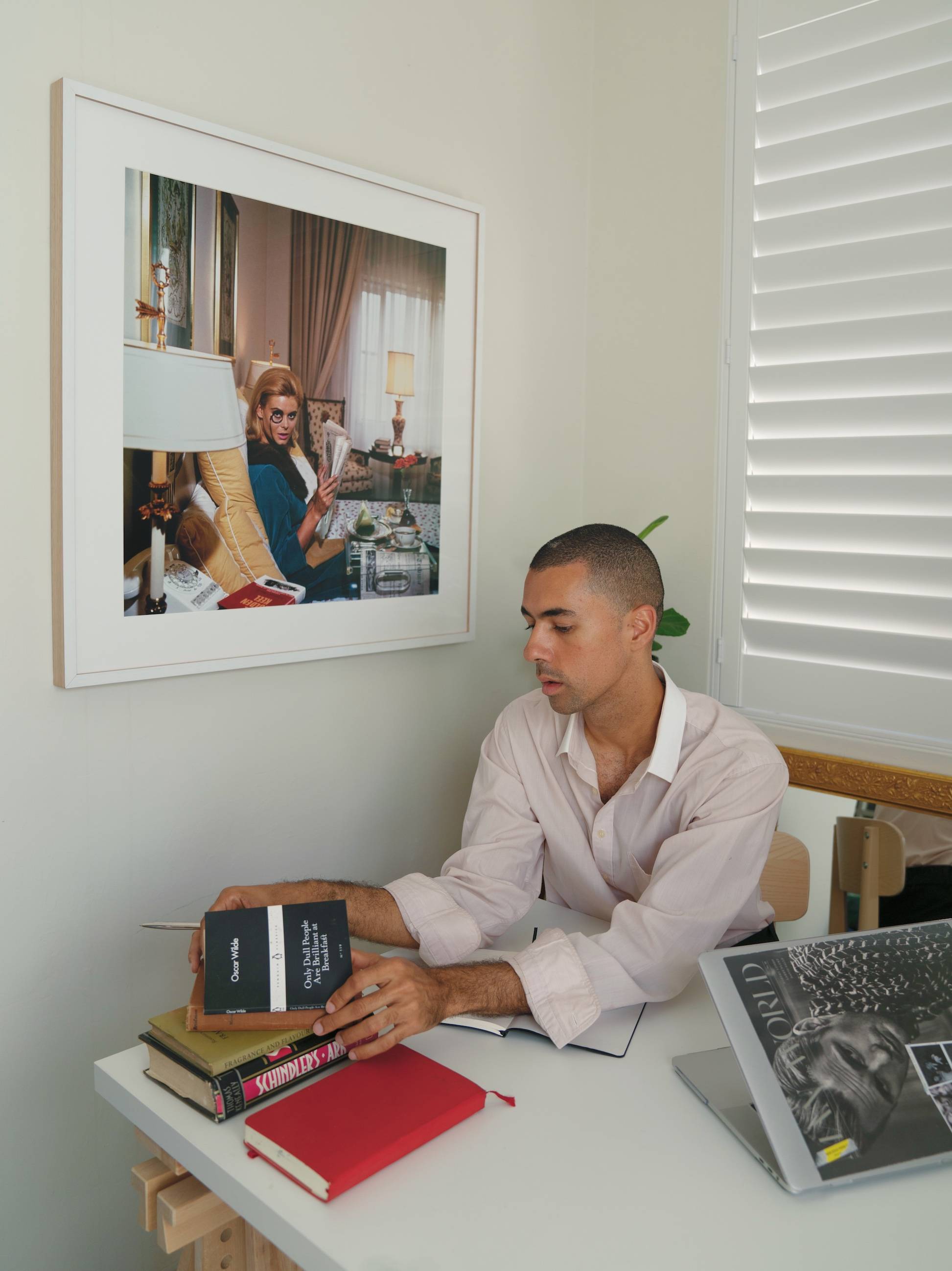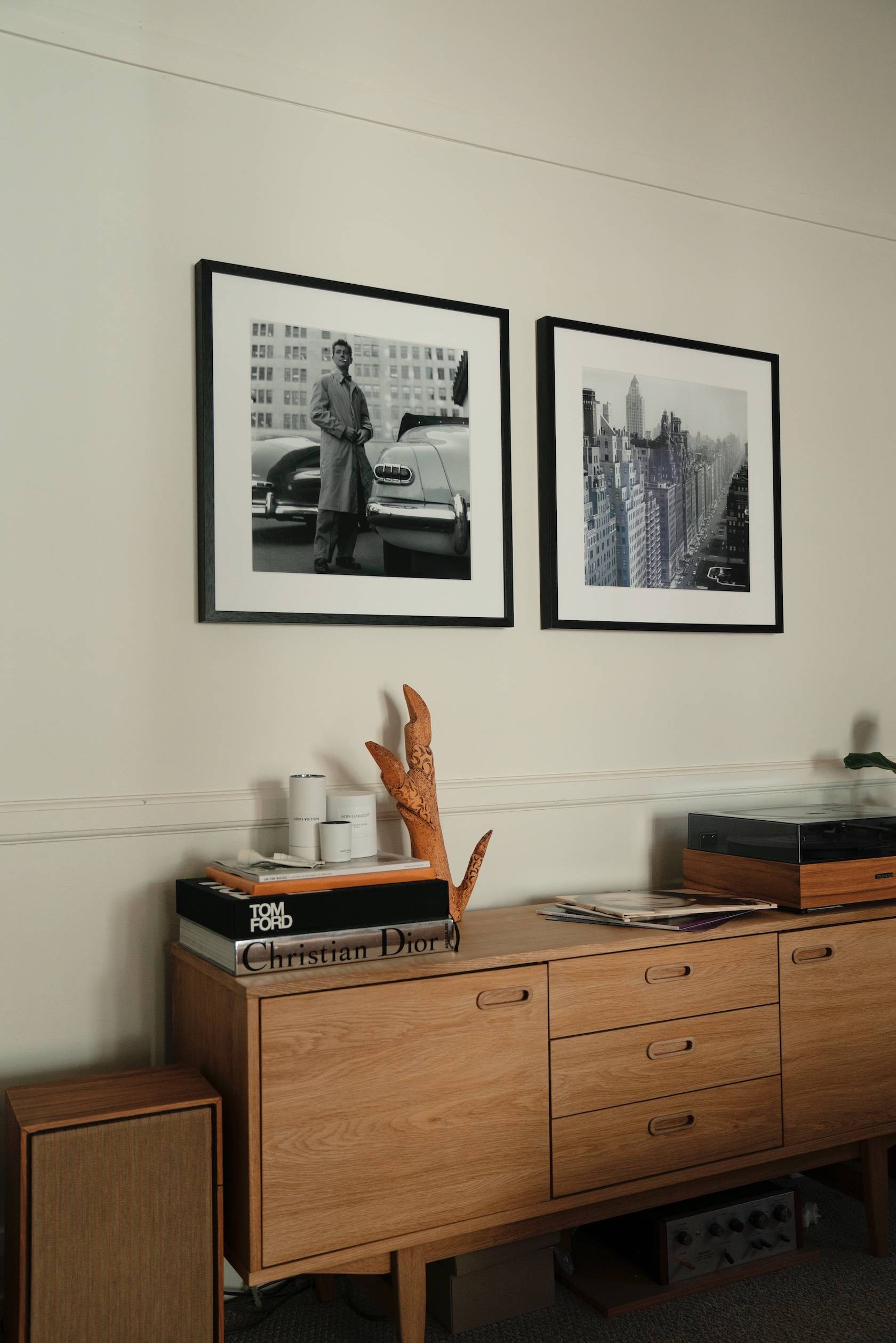 We chat to Jordan about his new framed Slim Aarons prints and his fashion and interiors influences.
Where did you begin when planning, creating and decorating your interiors in your new apartment?
I began from scratch! White walls, fresh floors and less furniture. I knew that I wanted pieces that would not only be versatile but still unique and iconic in their design. I spent many weeks - which turned months - searching for the right bits and pieces.
Let me tell you, once you do find what you've been looking for, it's always worth the wait.
I wanted to keep things as simple as possible, without losing charm and character. One of the many things I've learnt from all interior designers and tastemakers featured on Architectural Digest is that simple is always best. Until it comes to art, in which case, go all out.
I remember reading a quote from Ezra Croft, "People need art in their houses. They don't need Bed Bath and Beyond dentist-office art. They need weird stuff." I couldn't agree more.
What was it about these Slim Aarons photographs that resonated with you?
I normally feel overwhelmed with decision making but it's as if on first glance I knew what photographs resonated most.
Slim Aarons is known for his Hollywood-Hills poolside snapshots of the social elite, and iconic Amalfi coast getaways. His knack for rich blues and unique pools would make any viewer feel nostalgic for Summer holidays.
As an outside-the-box thinker and admirer of his work myself, I wanted to get a piece that still paid homage to the unique colouring of his work, but in a way that related to me.
I fell in love with 'Monocled Miss'. I sometimes choose to picture Renata as Grace Kelly, whom of which I am infatuation, in How To Catch a Thief. It's set in peak luxury within one of my favourite eras of style and fashion; the 1960s. Renata - or in my mind, Grace - is pictured looking at her absolute best as she has breakfast in bed. I've hung this in my office, it's a work-hard-play-hard motif.
Unbeknownst to me, Slim Aarons has also worked with black and white film - a stylish preference of mine. The grayscale collection is set in my favourite city in the world, New York City. 'Park Avenue' and 'Star in Town' both fill me with the electricity and rush I have walking the concrete jungle.
Slim Aarons travelled to incredible locations all over the world capturing stunning landscapes, architecture, holidaymakers and of course exquisite fashion. We'd love you to share some of your favourite travel destinations!
My first choice, for both business and pleasure, will always be New York City. Catching up with friends, shooting editorials across concrete landscapes, watching - and re-watching - the latest and greatest on Broadway, and dining at my favourite restaurants around the city.
Upon travelling to Europe, I have found myself in complete awe visiting Kotor in Montenegro and Santorini in the Greek Islands. Both places are so different from anything I've ever seen before, and both of which I have shared incredible meals, in the perfect weather, at the most picturesque locations you could dream of.
I still have yet to visit Italy, so for my next travel destination - once we're able - you can bet I'll be eating my weight in cheese, pasta, and gelato as I make my way around the country by car.
How does vintage fashion influence your personal style?
Although I am always fawning over contemporary design giants in fashion, the likes of Yohji Yamamoto and Kim Jones, they would not be here without those before them. Mixing vintage and contemporary style is something I love to do.
I own a vintage YSL jacket from the 70s that I love to wear with everyday pieces from Jac+Jack. Another favourite is using a suit jacket from a 70s suit by Vivienne Westwood I bought op-shopping and piecing it together with a wide-legged pant from Stella McCartney.
The same goes for your home. There is a huge trend of mixing mid-century modern and art deco furniture from the 60s and 70s with contemporary artworks and timber designs. It's an art of balance.
Who, or where do you look to for inspiration for your creative work?
Anywhere and everywhere.
A walk down the street could birth the idea of a new editorial. It could be from finding a certain location, or seeing how someone walking in the opposite direction has worn a t-shirt differently, or how the light hits a street post and casts an obscure shadow against a wall nearby.
It could also be from music I listen to. I'll often listen to a song or album for the first time and imagine a whole world to visually exist in its lyrics and melodies. It's like making a music video from the feeling I get listening to a song.
Sometimes it's even from reading a book and imagining a character a certain way. No matter what we may read, we'll always have a different picture to one another. Playing on that idea could bring on a whole new concept too.
I suppose you'll just never know what you'll get with me.
FRAMING TO A T are Melbourne's largest stockists of Slim Aarons photographic prints. Visit us at one of our three locations in Melbourne, shop our curated edit of Slim Aarons prints online with delivery available Australia-wide, or get in touch to view our extensive catalogues of Slim Aarons' works.