at home with iona maclean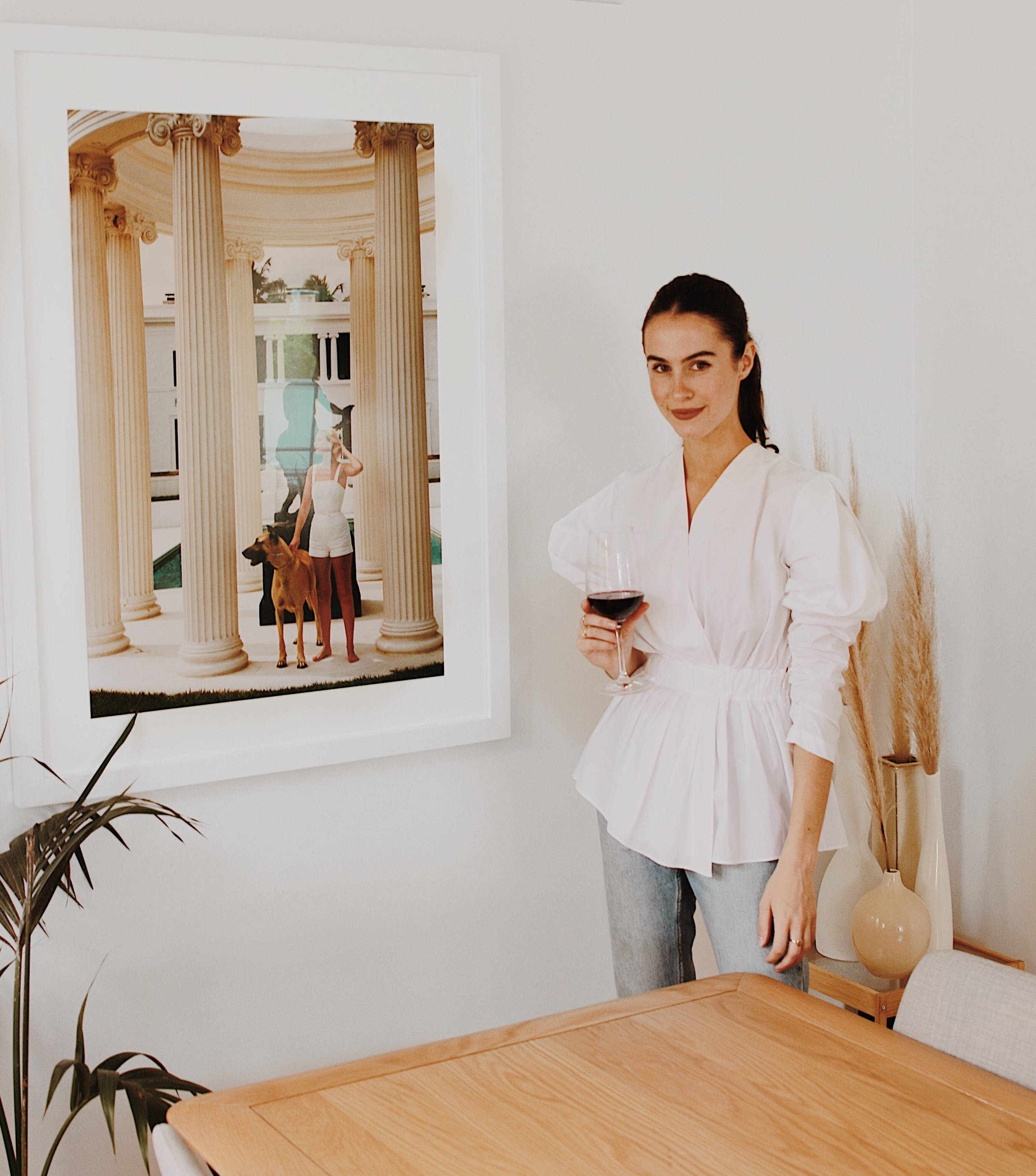 Iona captures every sense of the typically 'Slim' sun-drenched, chic and fun energy in her own life that has made Slim Aarons' photography so iconic.
Throughout the fifties, sixties, seventies and eighties Slim Aarons moved in circles of glamorous jetsetters, photographing holidaymakers relaxing in their favourite destinations and partygoers hosted by fabulous entertainers.
This photo series features Iona's pick from the Slim Aarons archives. The exquisite 'C.Z Guest', Palm Beach, Florida, 1955 and the beautiful book Slim Aarons: Women by Laura Hawke.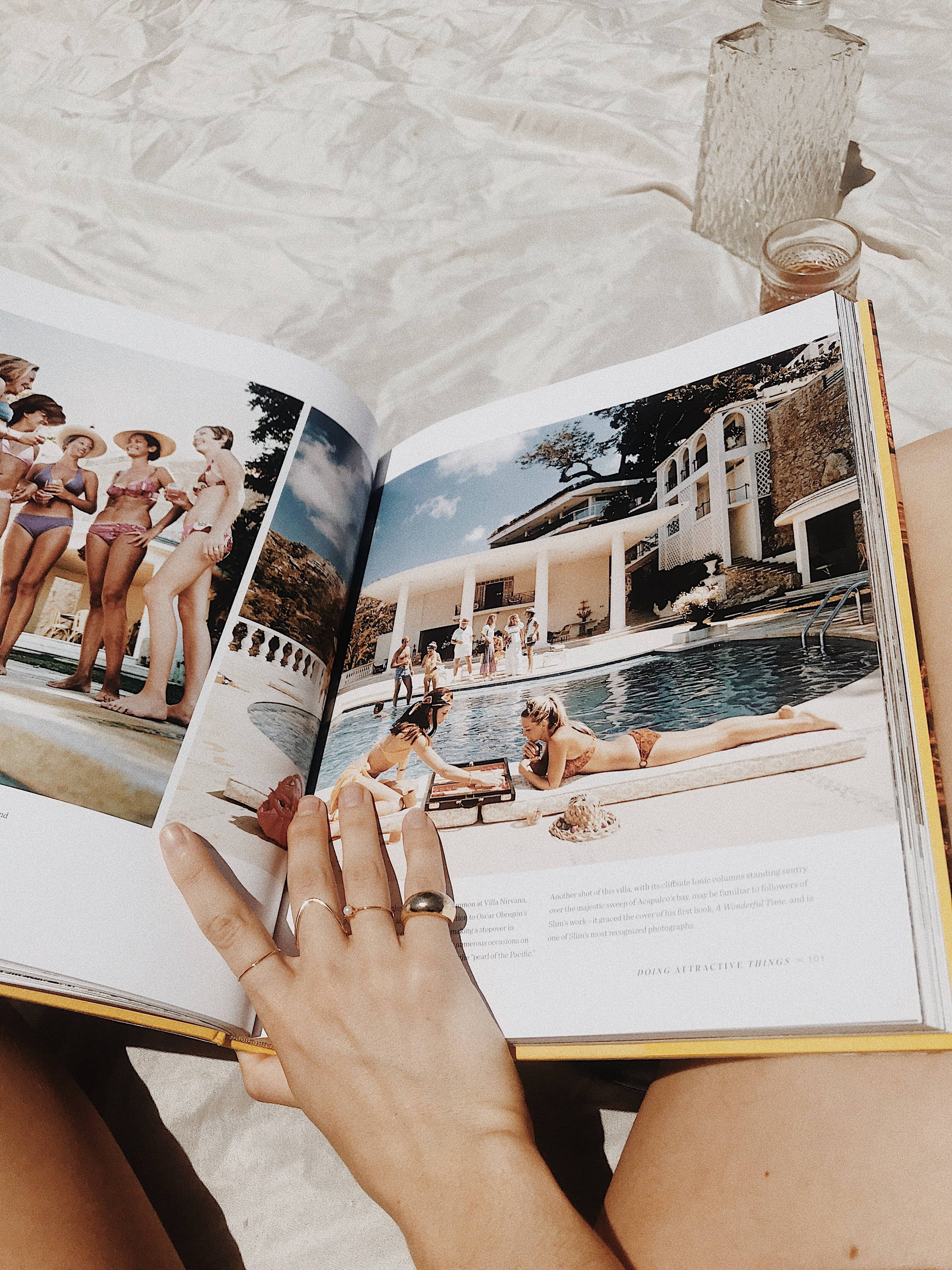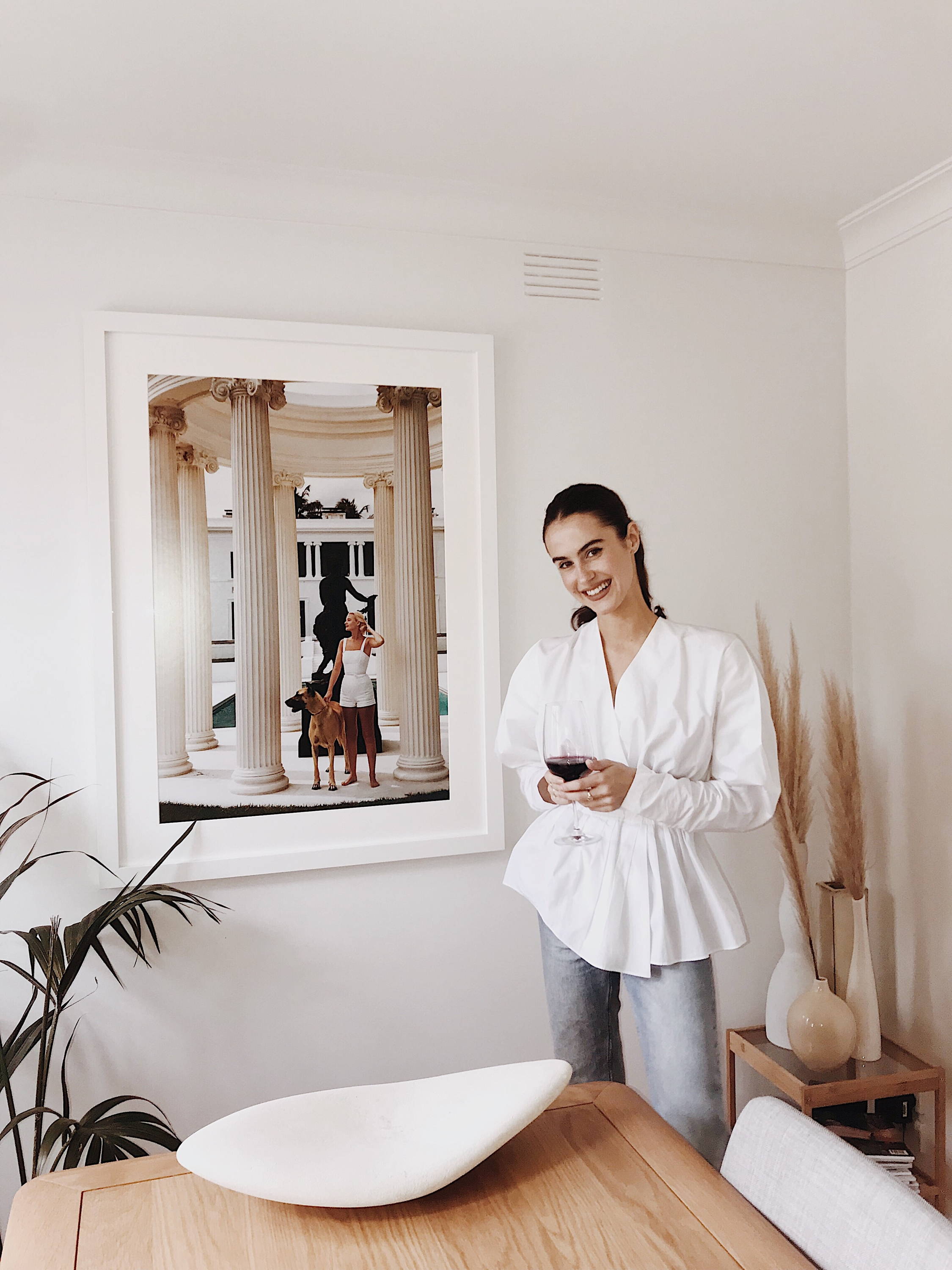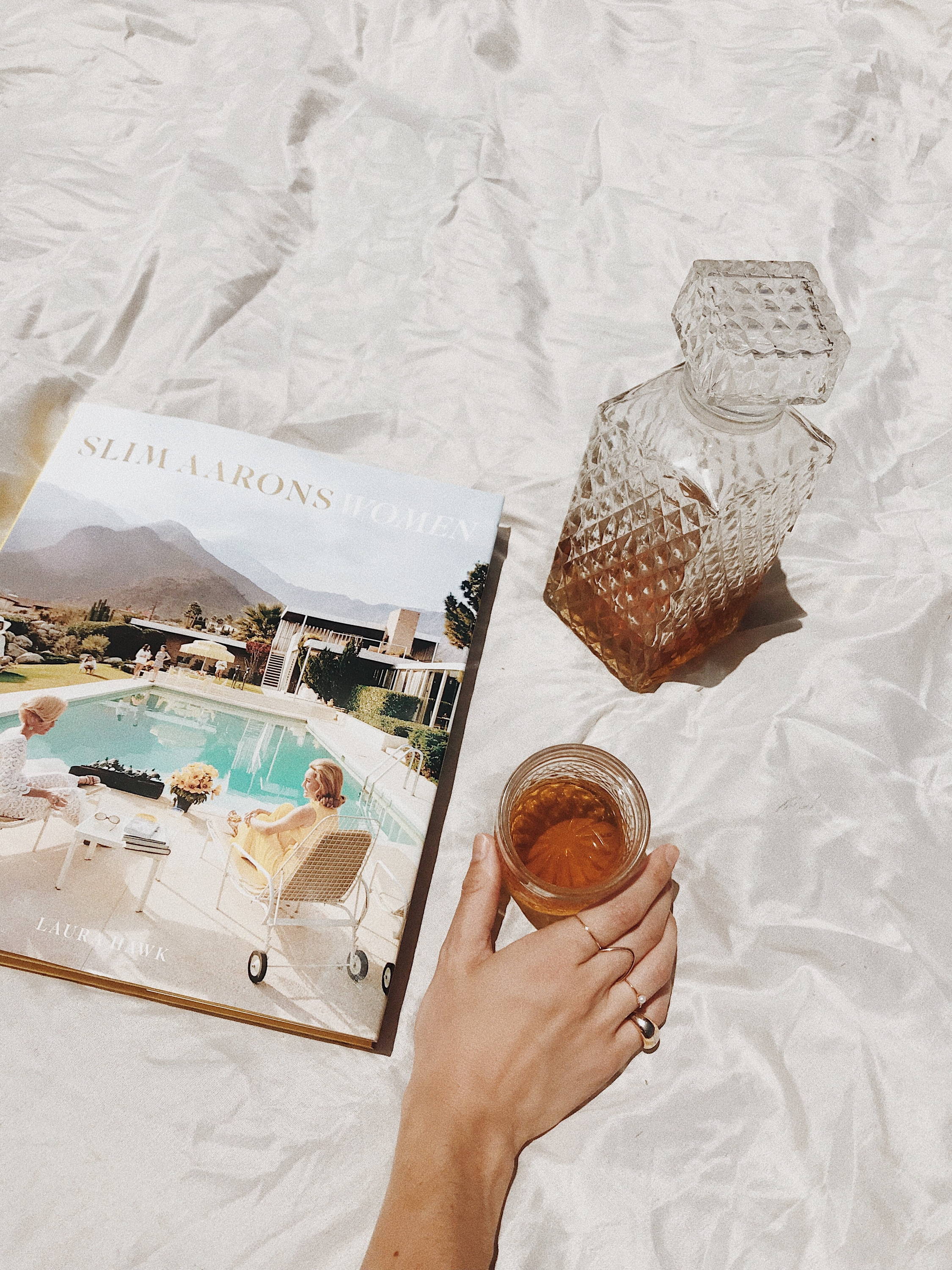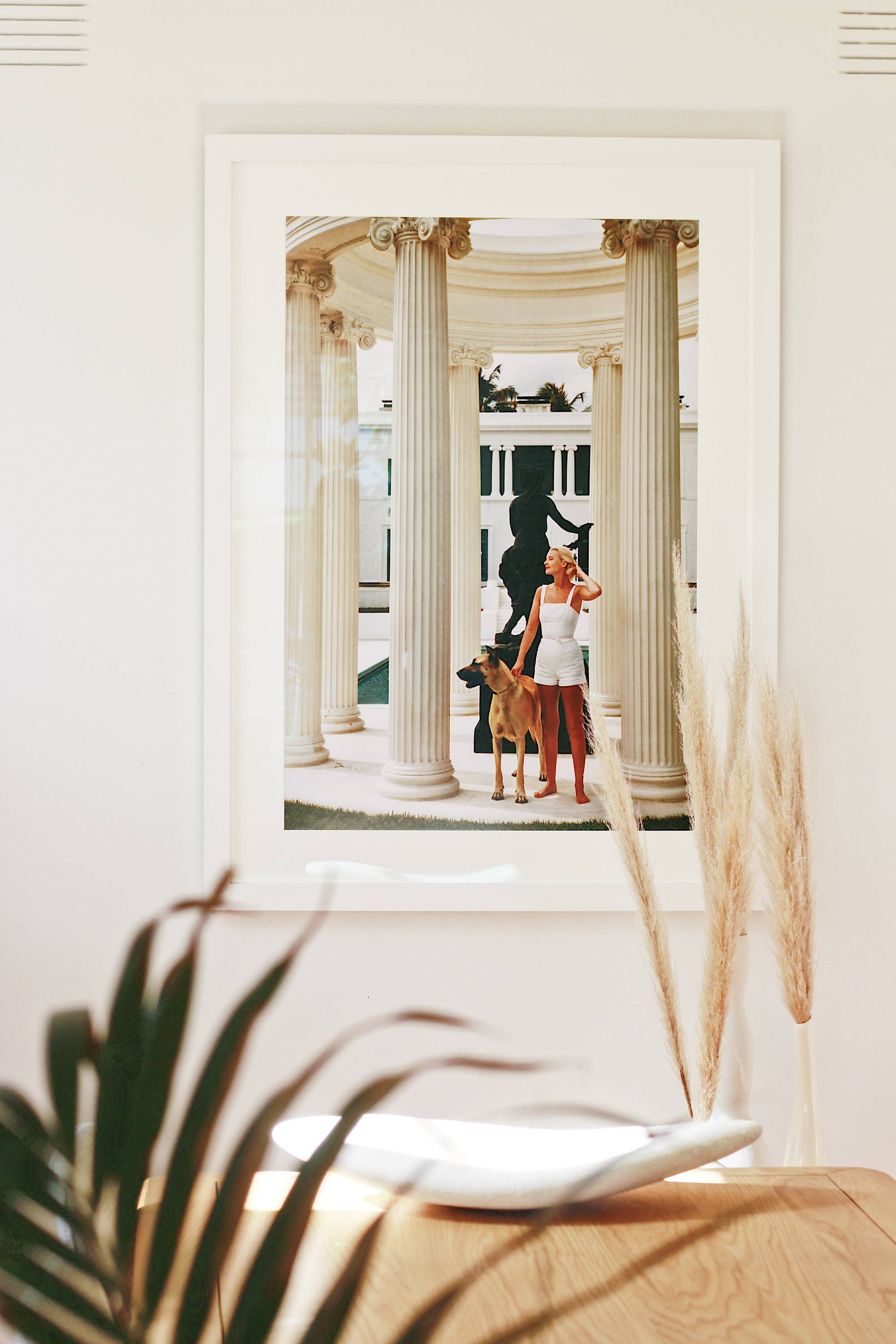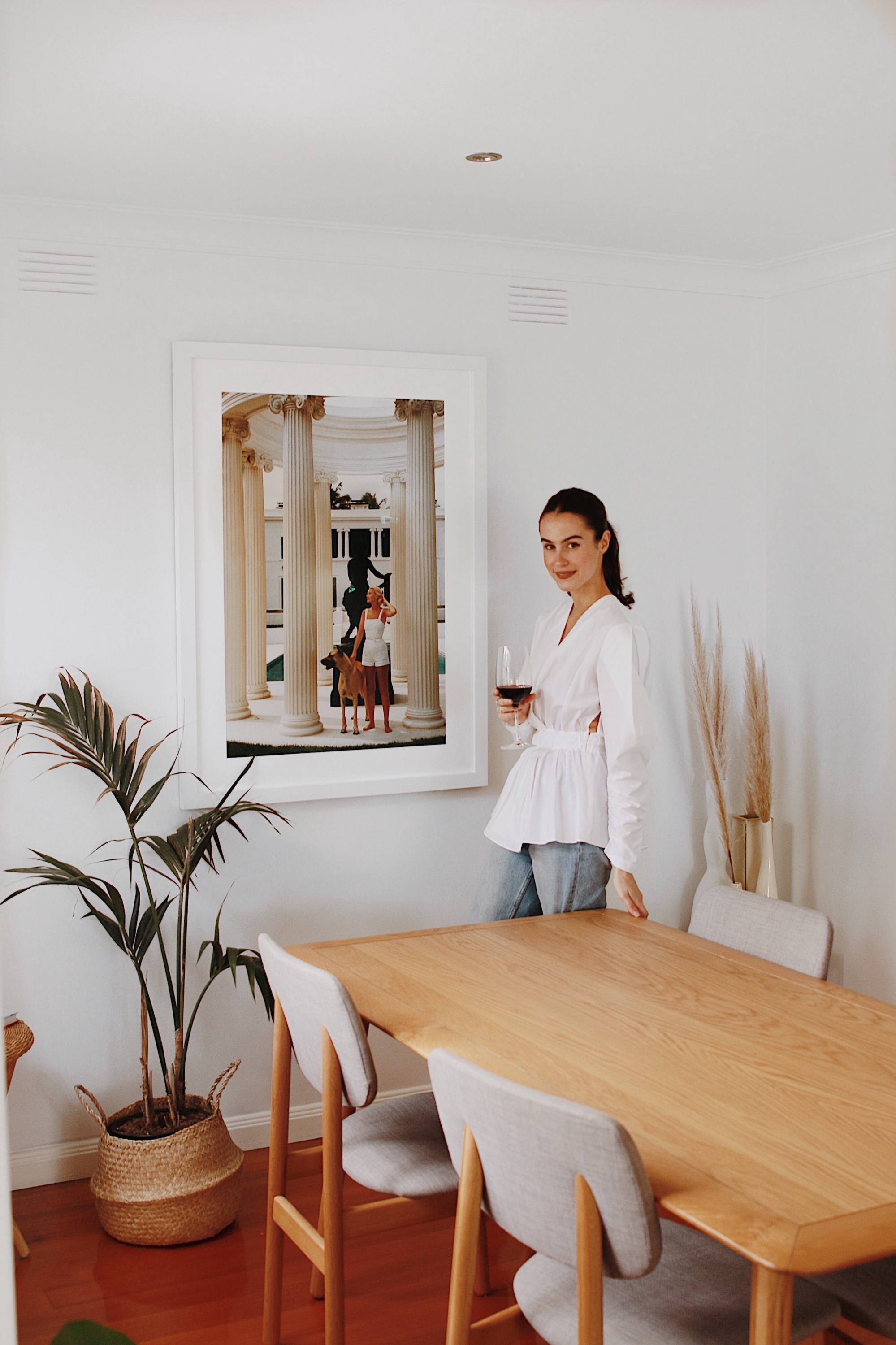 We chat to Iona about her new framed Slim Aarons and her love of style, both in fashion and interiors.
What is it about this photograph that resonated with you?
I love how mysterious yet totally comforting this image is. An iconic and stylish woman whom within her walls and within her skin, she looks completely at home. And now she is in my home. This makes me happy!
How does vintage fashion influence your personal style?
Vintage fashion and op shopping is what gave me my love of dressing myself and being a bit different. I started my blog mainly posting thrifted finds but now as I get older and can invest in some good quality pieces I mix and match. Most of my prized possessions in my wardrobe are from op shops or vintage markets. Knowing that these pieces are pre-loved, timeless, good quality and completely unique is so thrilling and satisfying for me. It excites me.
Who, or where do you look to for inspiration for your home interiors?
Mainly Instagram! I have so many screenshots saved to my phone of interior inspo! I follow some cool interior design profiles (my favourites are Leyla Uluhanli and Studio Lowsheen) as well as personal style muses whom I get ideas and inspiration from (both fashion and interior style). Some of my muses are Brooke Testoni, Marie Von Behrens, Pernille Teisbaek, Tiffany Wang and Saasha Burns. Also some of my favourite furniture brands are Anibou Furniture and Pampa.
What other artworks are you loving at the moment?
I'm really loving John Zabawa's artwork. I love the earthy colours, minimal aesthetic and his interpretation of the female form. I also have my friend Ryan Cantwell's photograph blown up on my bedroom wall. His work is amazing. I'm currently insta stalking Sally West, Kit Agar and Scott Sueme for their exquisite art.
Slim Aarons captured incredible photographs with little planning, no stylists and no hair and make up team. Are there any photographers that you work with, that you feel can create the same carefree, spontaneous yet beautiful results?
Yes! Ryan Cantwell, who I mentioned above. I admire his work so much and love working with him. We would go on spontaneous road trips with no real destination in mind and end up in the most unlikely and cool places to take photographs. He has a way of making his subject so comfortable and catches off guard moments at ease or laughing. Most of my favourite photos he has taken of me are the out-takes when I am candid, getting ready and completely relaxed. He also has that meticulous attention to detail – colours, symmetry, even hand/finger placement, but at the same time makes it look so effortless and nonchalant.
My boyfriend who has been subjected to amateur photography isn't bad either! Haha.
FRAMING TO A T are Melbourne's largest stockists of Slim Aarons photographic prints. Visit us at one of our three locations Berwick, Brighton or Hallam to view our extensive catalogues of Slim Aarons' works, or shop a select curation online.
For enquiries please contact online@framingtoat.com.au