If you haven't stumbled across Harrie aka @harriehighpants on Instagram yet, and you love dreamy colour palettes and endless interiors inspiration, keeping up with Harrie is a must.

Originally a school teacher, Harrie dove into the design and styling world, and we first crossed paths when working on the 2018 season of The Block.
Harrie runs The Block Shop physical space, curating artworks and home accessories that you see in Channel 9's The Block for contestants. Harrie has also joined the team at Nectaar, interior design and decoration firm based in Melbourne.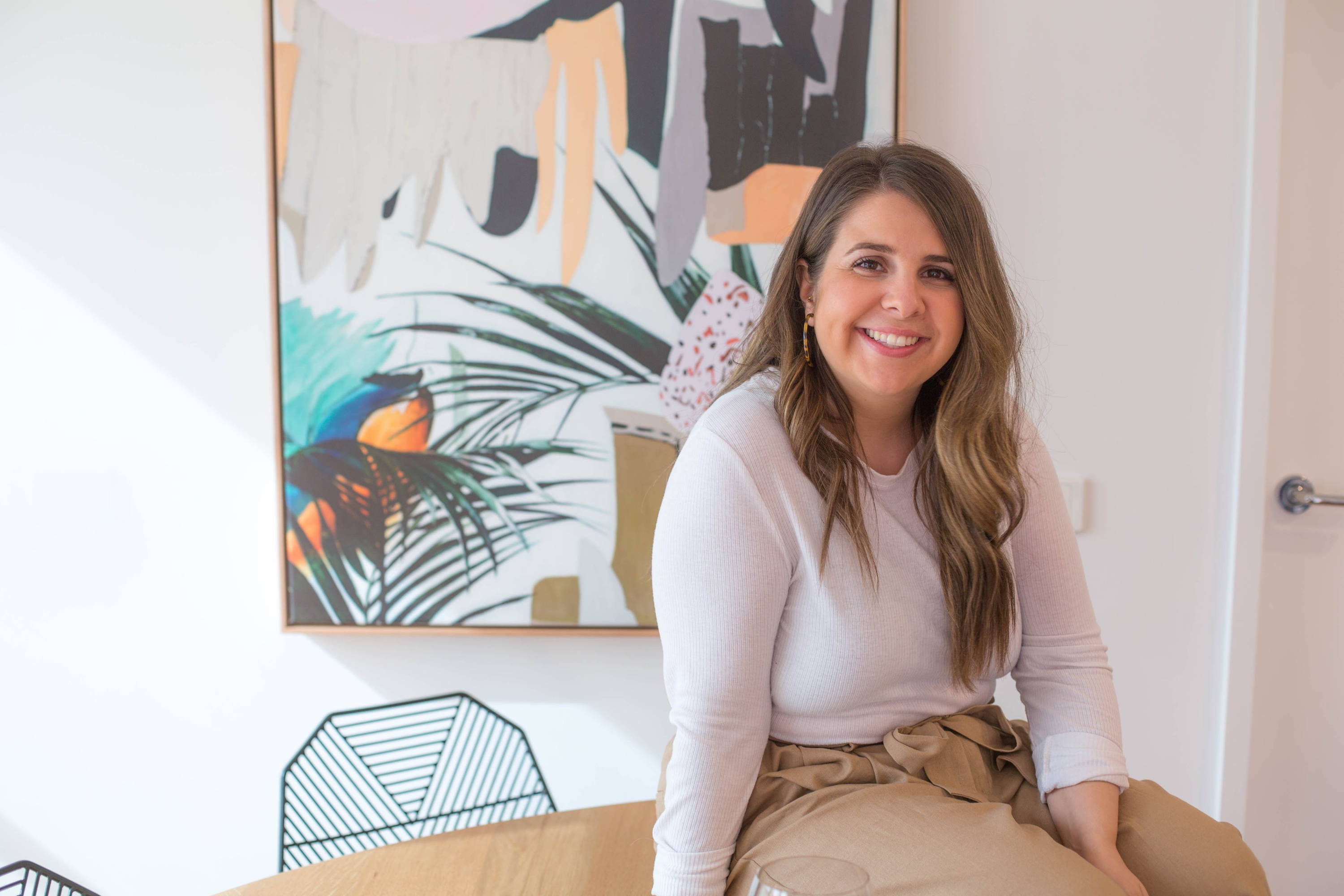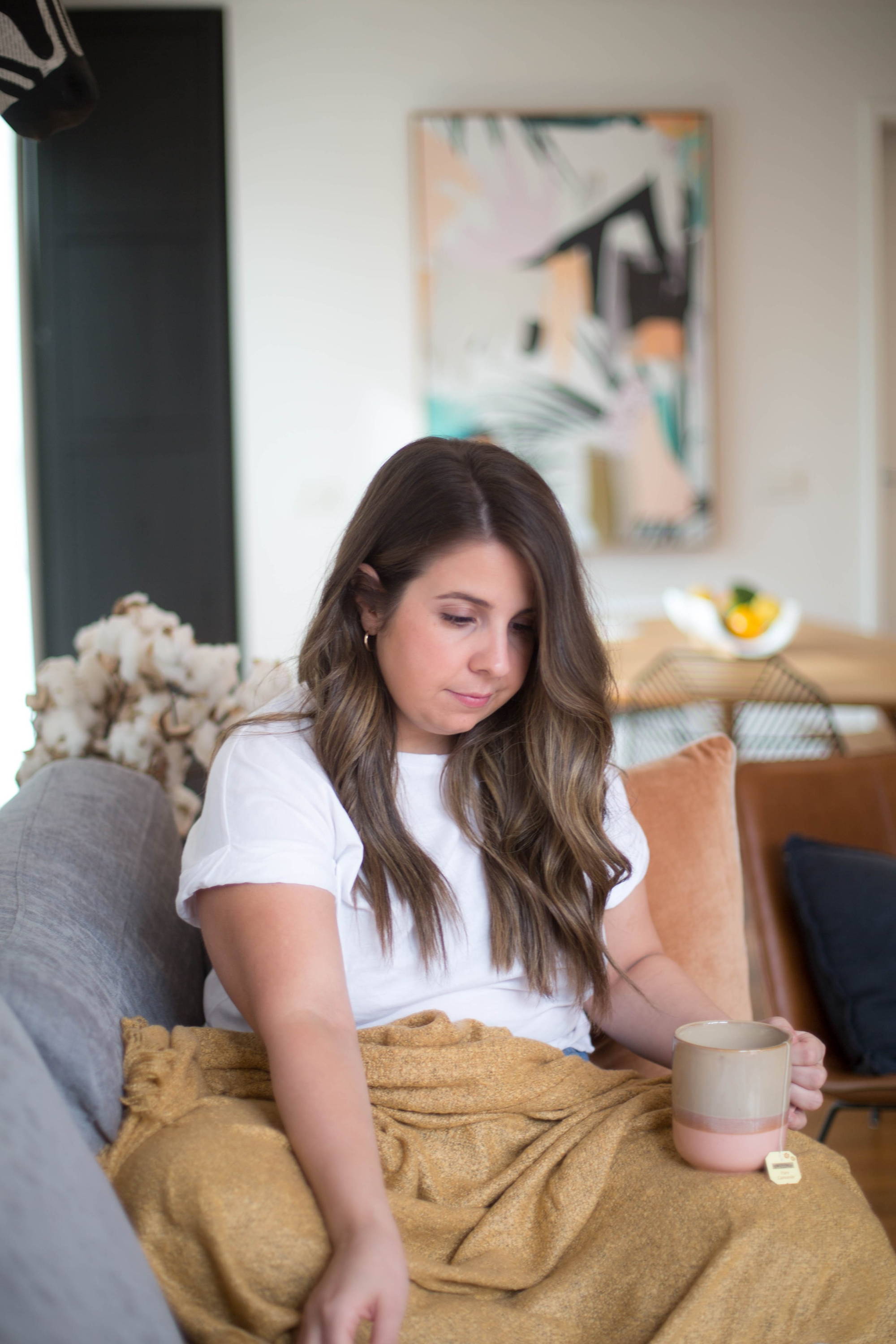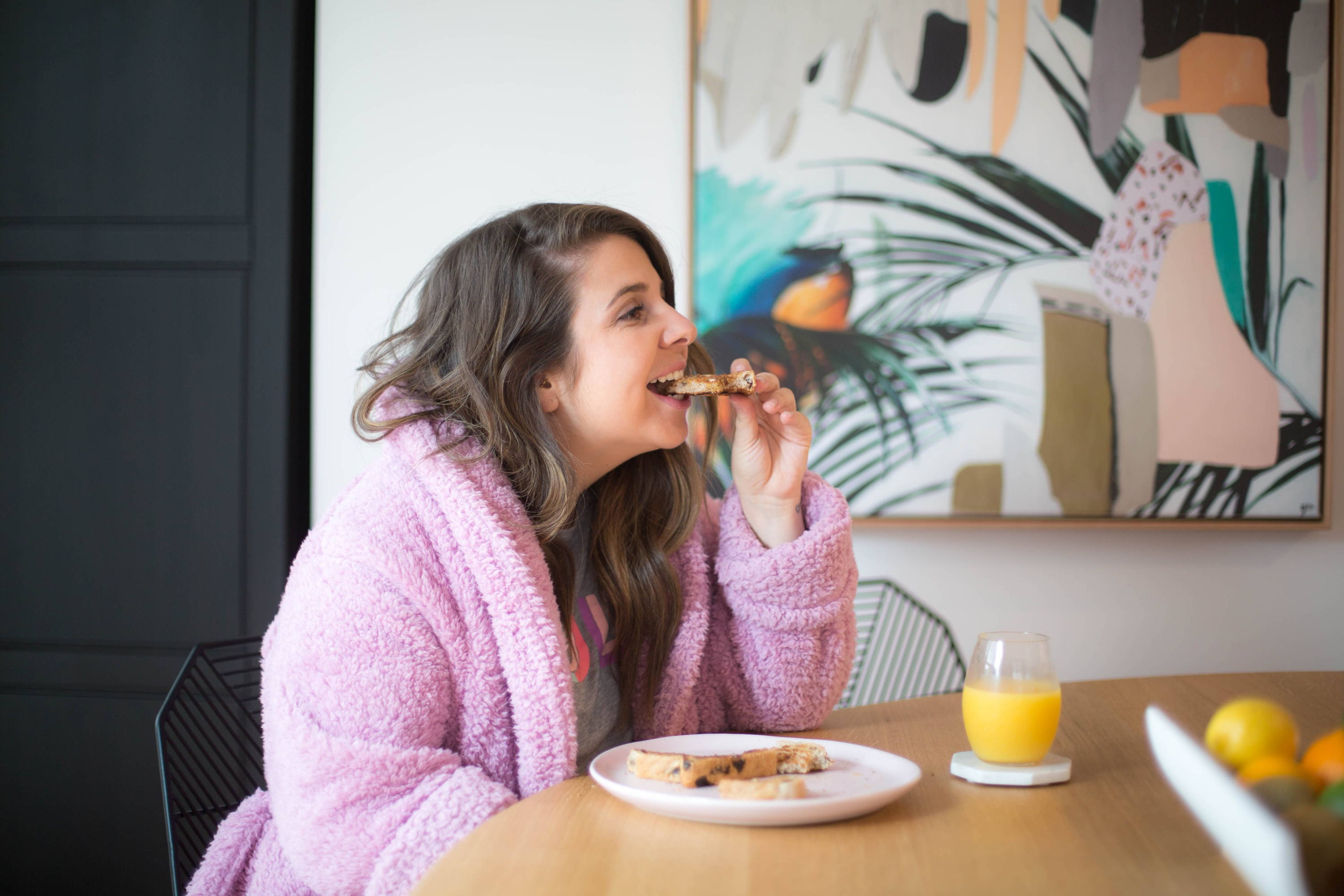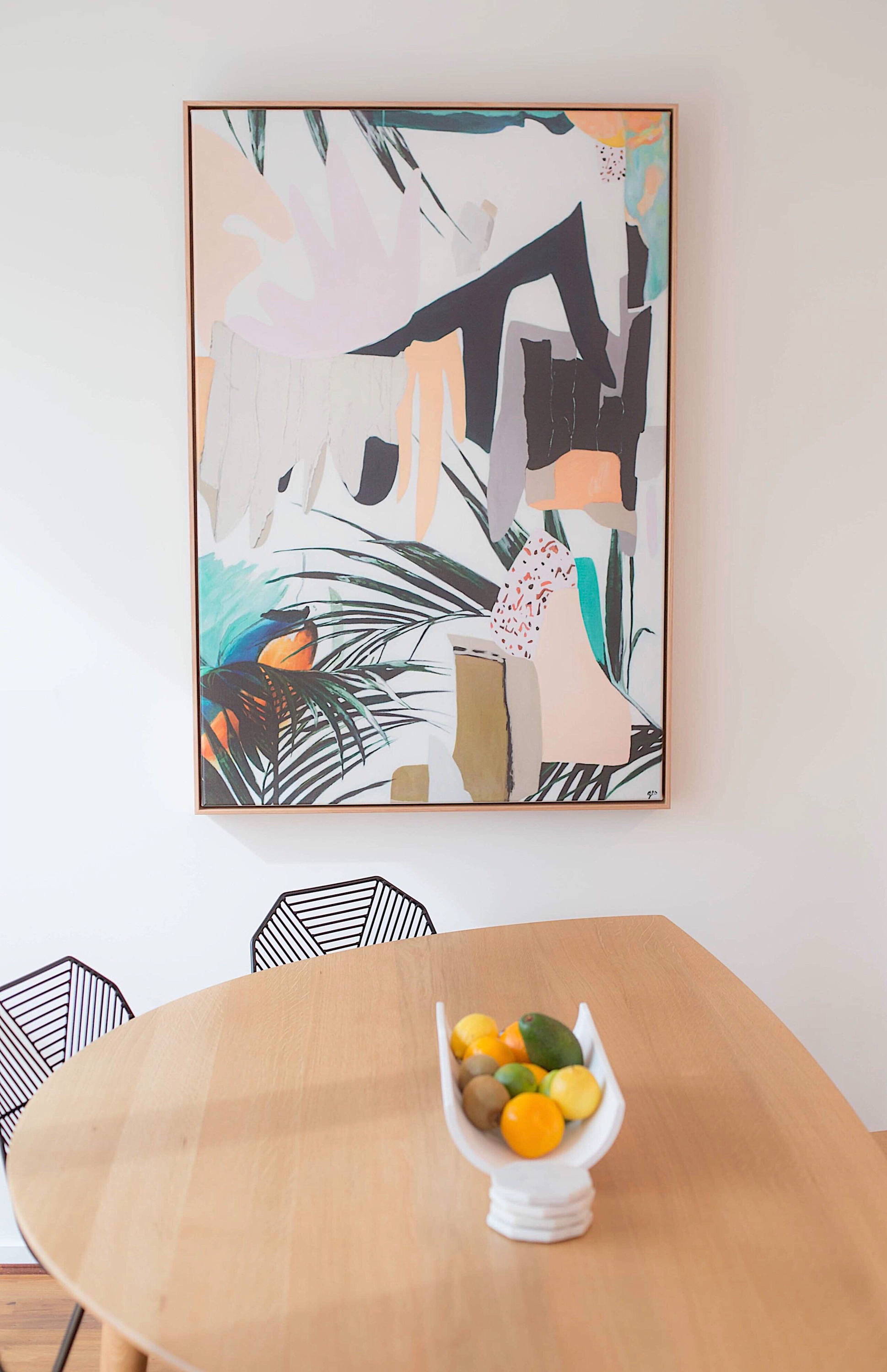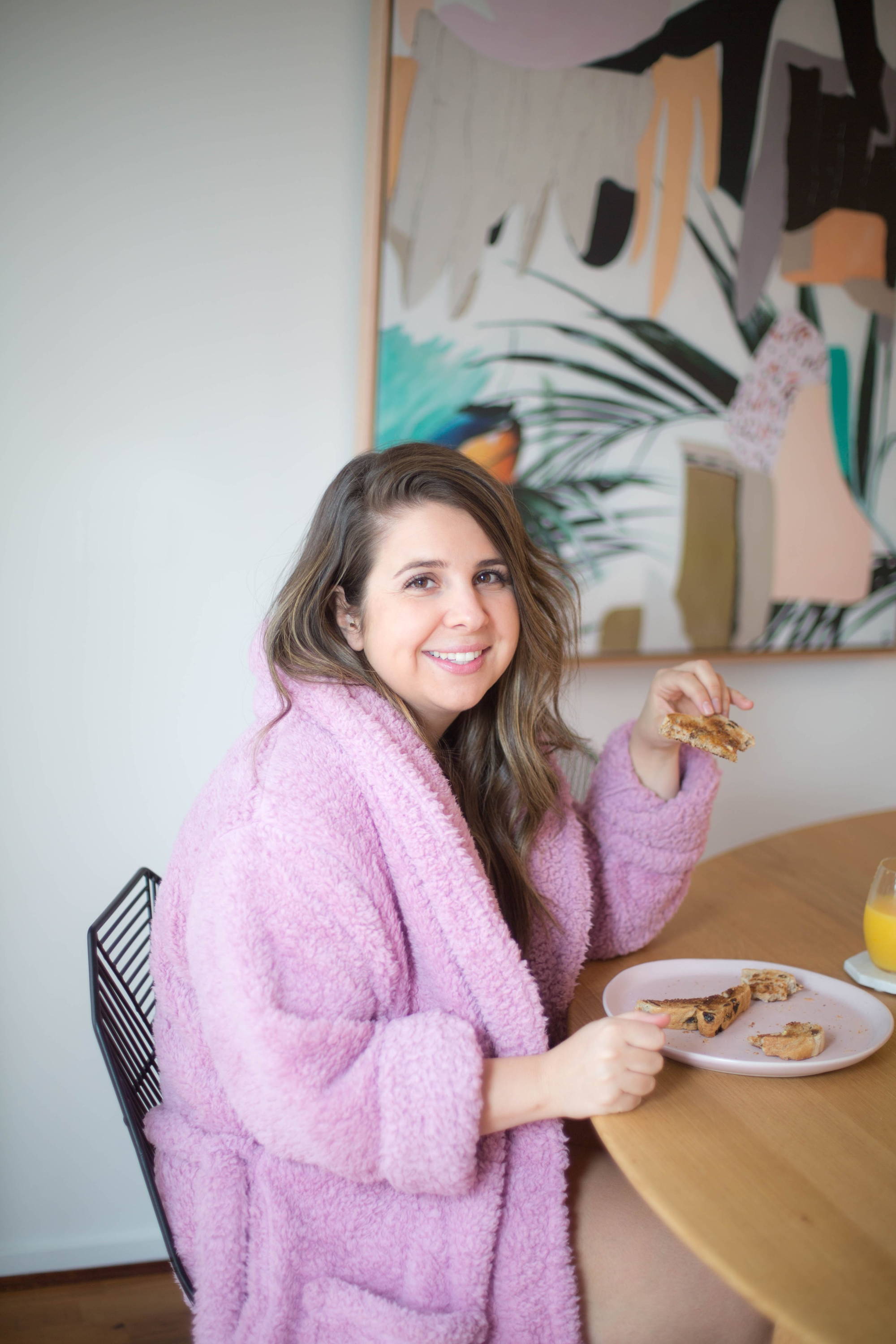 We sit down with Harrie and ask her about her new framed artwork by Georgie Wilson, and her love of art, style and design.
What was it about this artwork that drew you to it?
I am a big fan of Georgie's work! Her pieces are always so intriguing to look at, and the perfect amount of abstract for me. I also looove pastels. The gentle pastels juxtaposed with the bold black and blue also suit my home perfectly.
You're surrounded by amazing artworks every day, whose works are you loving most at the moment?
I am so lucky to be surrounded by so many amazing artists at work. Leah Bartholomew is my favourite artist. I am obsessed with Liam Murphy, Casey Burrill and Angus Martin – oh my gosh all of them are amazing! I'm also a huge fan of Jai Vasicek, Melissa Boughey, Bonnie Gray, Carly Williams, Stuart Cantor's photography…I could go on forever…BUT one thing is for sure, it has to be colourful!
Your love of style and design took you from being a school teacher, to studying at Design School. Now you're curating art, occasional furniture and homewares for The Block Shop. Tell us a bit about your journey.
It is all a bit of a whirlwind! I'd always had a big interest for interiors, and really wanted to pursue it further but couldn't commit to full time study while I was teaching primary school full time. I stumbled across the Design School course and it was the perfect fit for me. I learnt so much and met so many amazing people. My Design School teacher Jenna put me in touch with my now boss and Block Shop co-founder Sarah. We met for lunch and immediately clicked, in-fact we chatted the afternoon away. She was needing a right hand man to get the Block Shop up and running. I started very soon after that a few weeks out from the commencement of production for 2018.
Who, or where do you look to for inspiration for your home interiors?
I draw inspiration from everywhere. It helps that I work in a homewares store! I am always on the hunt for emerging artists and things that people haven't seen before. Its' funny, I've been working St Kilda now for 2 years and I have noticed my style has developed into being a bit more fun and quirky. It's interesting how your surroundings impact you without even knowing.
Is there a decorating style, or colour palette that you are drawn to for your own home styling?
Less is more! I am not a fan of clutter. I work in the shop all day where there are SO many amazing things, so much stimulating my mind, that its nice to come home to a calm, soft and simple aesthetic.
Framing to a T stock a beautiful selection of artworks. Visit us at one of our three locations Berwick, Brighton or Hallam to view our framed art in store, or shop a select curation online.
For enquiries please contact cath@framingtoat.com.au.